Special Market Update
Grain Market Commentary
Monday, August 5, 2019
By Rhett Montgomery, Account Representative, The Andersons
Corn
Corn traded lower on the overnights on the heels of weekend headlines highlighting increased U.S. - China trade tensions, before rallying early in the day session to close in the green. September corn (CU19) closed the session at $4.0525, up 5.75c. New crop December corn (CZ19) was up 5.25c, closing at $4.1475. For the month of July, front month corn price was down 28.75c, and as we enter the first full week of August prices now sit 60-65c off the contract highs set in the middle of June.
The corn trade today had a 15.75c range on the September board. Trade tensions with China pressured things on the overnights and early in the session before prices rallied. Private analyst group Informa released their updated yield estimates this morning coming in at 167.8 BPA, up from the USDA's published 166. However, Informa is penciling less acres for a slightly smaller total production number of 13.867B bu. The USDA pegged production at 13.875B bu. in its July WASDE report. The next WASDE report is out on the 12th and has potential to be a market mover as traders continue to speculate what planted acreage and yield will look like following a historically wet planting season in much of the eastern corn belt. The demand side will also be interesting as rumors continue to circulate of ethanol plants slowing corn grind, and exports still lagging with early estimates showing a larger South American corn crop for the 2019/2020 crop year.
Technically speaking, the market rallied today back above the $4.00 mark, which is also the 200 day MA. Between the psychological support of $4.00 and that MA I would expect this to serve as a nice support level for the move. On the flipside, the market failed today at the 100 day MA of $4.06. A tight trading range as we approach the all-important August 12th report would not be all that surprising. In terms of the fund positions, last week's report had them at net long 111k contracts of corn, which is now being estimated at closer to 70k long following liquidation last week. Short term direction will be impacted by the Crop Progress report out this afternoon at 3 p.m. CST. The market is looking for a G/E rating in corn of 57% vs 58% last week.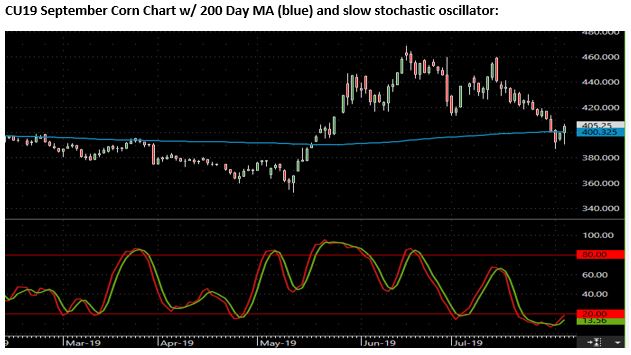 ---
Soybeans
Soybeans started the session lower today, but rebounded 13c off the overnight/early morning lows. September soybeans (SU19) closed at $8.56, up 0.25c. New crop November beans closed up 0.25c as well at $8.6875. For the month of July, front month soybean prices were down approximately 50c. Prices now sit approx. 80c off the mid- June highs.
Trade tensions with China was the feature of the trade early in the session. Last week President Trump announced that an additional 10% tariff on $300B worth of goods would go into effect on Sept. 1st if no agreement is made. China retaliated this morning by announcing that its state owned crush plants have been advised to no longer import U.S. soybeans. Informa also released its August estimate for soybean yield at 48.2 BPA, down from the USDA July estimate of 48.5. We are entering the key period for soybean development and weather throughout the last half of August and first couple weeks of September will be key to determining what yields will be like this fall. This afternoon's crop progress is looking for a G/E rating of 54% on beans, unchanged from last week.
Technically, late last week we saw a cross of the 50 Day MA above the 100 Day MA, combined with stochastic indicators entering the oversold area of the oscillator. Today's chart action also showed a bullish key reversal. In the short term these indicators seem to point to potential of a move higher. However, it is important to weigh the current fundamental issues with no resolution with China in sight, current oversupply, and a lot still to be determined in terms of acreage and yield. This uncertainty when it comes to supply and demand may keep a lid on any rallies.

---
Summary
Corn lower to start session on trade concerns, closed higher on private estimates of lower production, as well as technical support.
Soybeans lower to start session on China- U.S. heightened trade tensions. Closed unchanged to slightly higher on private estimates for lower production.
Next market mover will be August 12th WASDE report.
Please stay tuned to andersonsgrain.com this afternoon for our Monday Crop Progress update.