Special Market Update
Grain Market Commentary
Tuesday, June 30, 2020
By Rhett Montgomery, Associate Merchant, The Andersons
Corn
Old crop September corn finished the day up 12.75c, closing at $3.4150. New crop corn finished at $3.5050, up 15.75c. The big story today was the USDA Acreage and Quarterly Stocks report released at 12pm EST. The USDA cut planted acres for corn by almost 5M acres, from 97M in the March intentions report to 92M this morning. This gave the market a much need shot in the arm as the December board reached levels not traded since the first week of April.
It will be interesting to see how the market reacts in the following days through this Holiday shortened week. Crop conditions improved another point in yesterday's update, and at least from our viewpoint in Nebraska most of the corn looks very good apart from some dryland which missed on sporadic rains over the past 7-10 days. Managed money most likely entered the day around 300K contracts short in corn, so perhaps this acreage number combined with potential dryness and above-normal temperatures into mid-July can spark some sort of rally in the corn market.
What will keep the bulls in check is that even with this cut in acres, using the USDA's yield number of 178.5 BPA still leaves us with a 2.5B bushel carryout and an ending stocks/usage ratio of 17.3%. This is also assuming a return to more normal ethanol production and exports. Without a doubt, the market will need a little more help from weather for the bulls to get really excited. In technicals, the December board traded up through the 100-day moving average at $3.53 but could not hold. That will be a key upside target for any move higher in new crop corn. To the downside, it will be important to watch if the $3.50 level holds, below that the mid-June highs in the $3.45 area will be key support levels.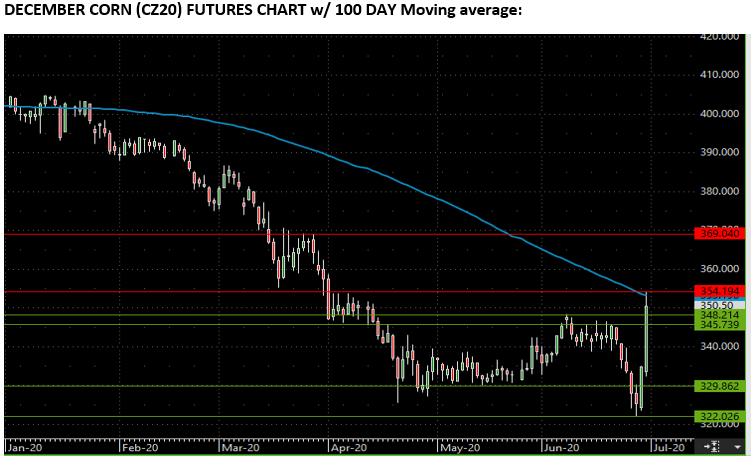 ---
Soybeans
Like corn, soybeans also benefitted from a strong day following today's report. Old crop August beans traded up 17.25c, closing at $8.7875. New crop November soybeans traded up 20.75c, closing at $8.8225. The soybean acreage estimate caught a lot of people, myself included, off guard today coming in more or less unchanged at 83.825M acres. This is just slightly higher from the March intentions number of 83.5M. The trade was expecting an even swap of corn acres over to soybeans of 1M heading into the report, but based on the published numbers it is clear that the prevent plant in corn combined with acres switching to other specialty crops was underestimated, with soybeans gaining very little from the cut in corn. As mentioned above with corn, soybean conditions are steadily improving being estimated at 71% good/excellent in yesterday's report. This is up from 54% a year ago.
As always demand will be important to keep an eye on, exports for soybeans are pretty much on pace at this point to reach or be close to the USDA estimate of 1.650B. However, business to China is slow and to me the theory still hasn't changed that China will wait until this fall to see how the election in the U.S. plays out as well as the new crop price being more competitive to Brazil at that time anyway. In technical action, November soybeans traded back above the 100-day moving average today but closed below the mid-June highs of $8.85, which is a good price to watch as resistance moving forward. To the downside the 100-day moving average at $8.73 is worth keeping an eye on for potential support moving forward. Managed money was estimated long about 30K contracts today in beans and most likely added to that length post report today.