Weekly Market Wrap-Up
Grain Market Commentary
Friday, April 5, 2019
by Jay Smith, Grain Associate, The Andersons
The beginning of the week was focused on moving on from last Friday's USDA stocks and intentions report. The USDA reset some initial parameters with a relatively large increase to corn acres. The markets will be looking for a new equilibrium point and attempt to settle into their price paradigms. Even with the USDA report, it is going to take some fresh news for the funds to flip from their short positions. As of now, there is nothing to spook the shorts from covering. Looking forward, eyes will now be on the U.S. and South American weather forecast. A drier pattern would be ideal for the U.S. while South America could use some moisture relief. With very little risk premium built into the markets it will become increasingly important for the weather to shift to drier in the U.S. the last half of April and first half of May. The ongoing trade war with China is again at the forefront as the Vice Premier is in D.C. with U.S. trade officials which could always bring some headline risk. There is cautious optimism surrounding the meetings with one report saying only a couple of issues remain unresolved. This is building optimism for a potential signing ceremony by months end or early May. The markets are tired of vague headlines but any quantitative details that include U.S. ag products could bring a quick pop to overly aggressive short positions. President Trump hinted that a deal may be done in four weeks but followed up by saying it may not. But, with giant stock numbers a comprehensive trade deal with substantial ag purchases by China is almost necessary to keep prices elevated. Also, the border dispute with Mexico was heating up with President Trump threatening to completely shut down portions of the border. But this was resolved with a one-year warning to make improvements at the border by Mexico.
---
May corn opened the week at $3.56 and closed at $3.62. A 6-cent increase. Corn bounced throughout the week but with the new report the old crop table looks to surpass a 2 billion bushel carry out which will need to be closely monitored as the picture is very bearish. Prices will be extremely sensitive to weather headlines moving forward with the possibility of disrupting planting. Additionally, harvest reports are pointing to a potentially record high corn yield in Argentina. Their harvest is less than 15% complete but will need to be monitored moving forward.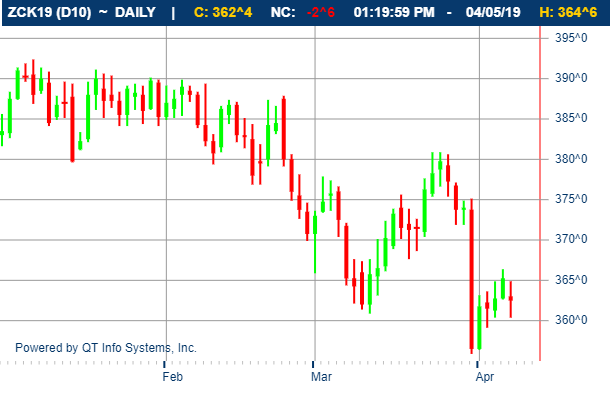 ---
May soybeans opened the week at $8.84 and closed at $8.99. A 15-cent increase. Like corn, beans also bounced throughout the week, but this needs to be closely watched because of the heavy stocks. Stock numbers continue to prove that markets are vastly oversupplied, which puts them back on the defensive.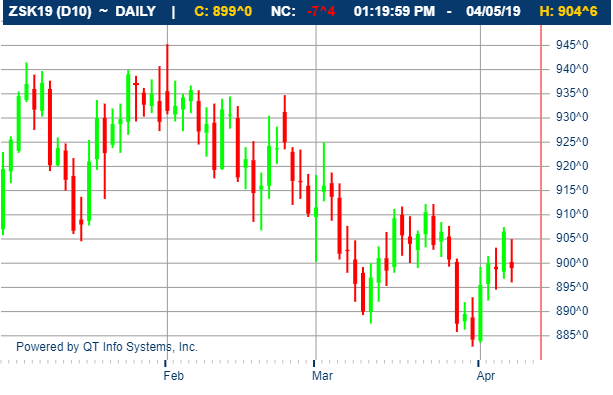 ---
May wheat opened the week at $4.59 and closed at $4.67. An 8-cent increase. Carry in wheat continues to underperform and shrink. U.S. wheat is competitive on a world setting on paper, but the export trade is not there right now. Global wheat continues to go to the Black Sea market.