Weekly Market Wrap-Up
Grain Market Commentary
Friday, July 19, 2019
by Jay Smith, Grain Associate, The Andersons
As the week began and progressed, weather was still the main driver. Monday's 10-day forecast was calling for hot and dry. With most of the belt reaching into the 90's and pockets touching 100+ over this time. This extreme weather is not ideal for the uneasiness surrounding the yield this year. Tuesday's weather models showed a quicker return to cooler/normal temperatures. And, with remnants of Hurricane Barry pushing northwest it brought needed moisture to the southern half of Illinois. Additionally, there was a pocket of rain in Nebraska tracking its way into parts of western Iowa and additional rain in northern Iowa. The heat wave coming to the Midwest late this week will push out quicker than originally anticipated. But, trade was still juggling what this extreme heat may do to yield. As trade stays weather driven, it is important to keep in mind most of the crop is ~3-5 weeks behind, it still has not reached the bulk of pollination. Weather models will be crucial moving through this pollination period. Overall, late last week and early this week's weather models missed by a rather large margin and heat will not be as long term as anticipated.
The crop progress report was released after the close on Monday. Going into the report, analysts were anticipating seeing declines in the G/E rating for both corn and soybeans. They were surprised when the G/E ratings for both commodities slightly increased. Overall, errors in the weather models and increase in the crop ratings caused a rather large risk release response throughout the week.
---
September corn opened the week at $4.59 and closed at $4.30. A 29-cent decrease. Last weeks COT report revealed the managed money getting longer, up to 174k+ contracts long. Corn's G/E rating was at 58% this week compared to 57% last week. Even though G/E rating improved, this is the 5th worst rating during this week since 1990. Corn was pressured by a combination of poor export numbers, declining cash values for South American crops, and cooler weather in the belt next week. Corn traded below its 50-day moving average for the first time since forging contract lows on May 13th. This will be an important technical point to pay attention to.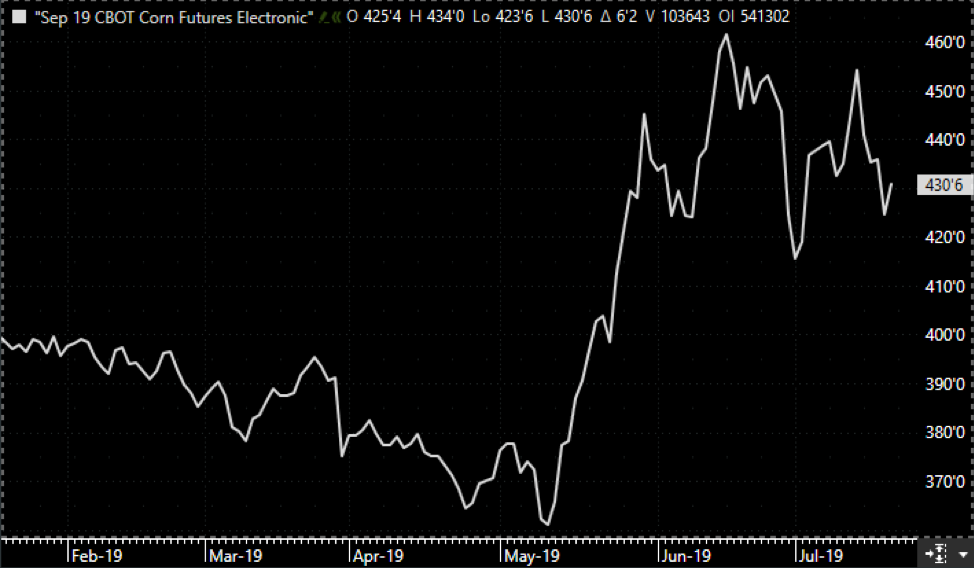 ---
August soybeans opened the week at $9.15 and closed at $9.01. A 14-cent decrease. Last weeks COT report revealed managed money getting shorter, now at 45k+ contracts. Soybean's G/E was at 54% this week compared to 53% last week. Late week soybeans jumped on rumblings of a phone call about trade with China and bargain buying.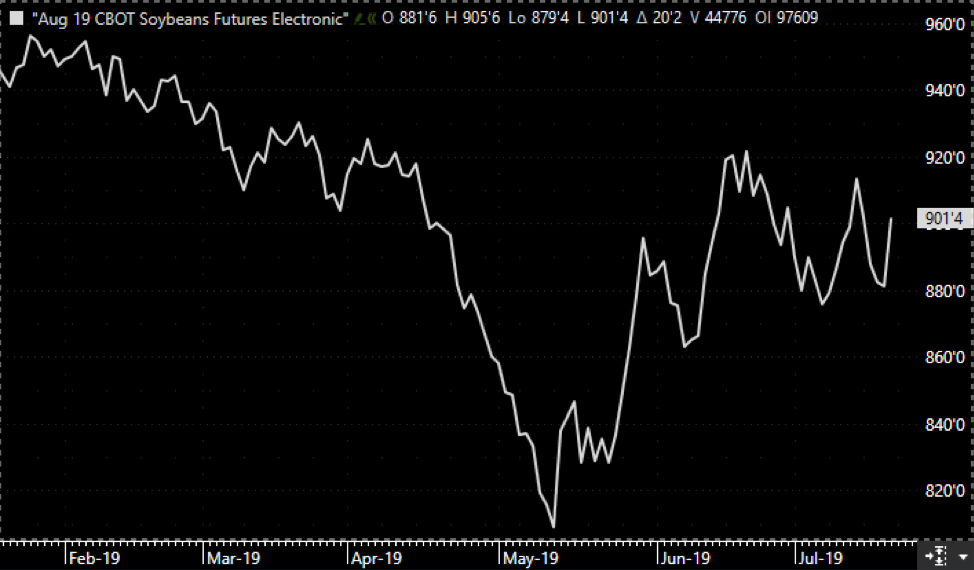 ---
September wheat opened the week at $5.24 and closed at $5.02. A 22-cent decrease. Winter wheat came in at 57% harvested compared to 47% last week and the five-year average of 71%. Wheat fell on progressing harvests in both the U.S. and Europe. Late week saw intraday gains on bargain buying after losses throughout the week.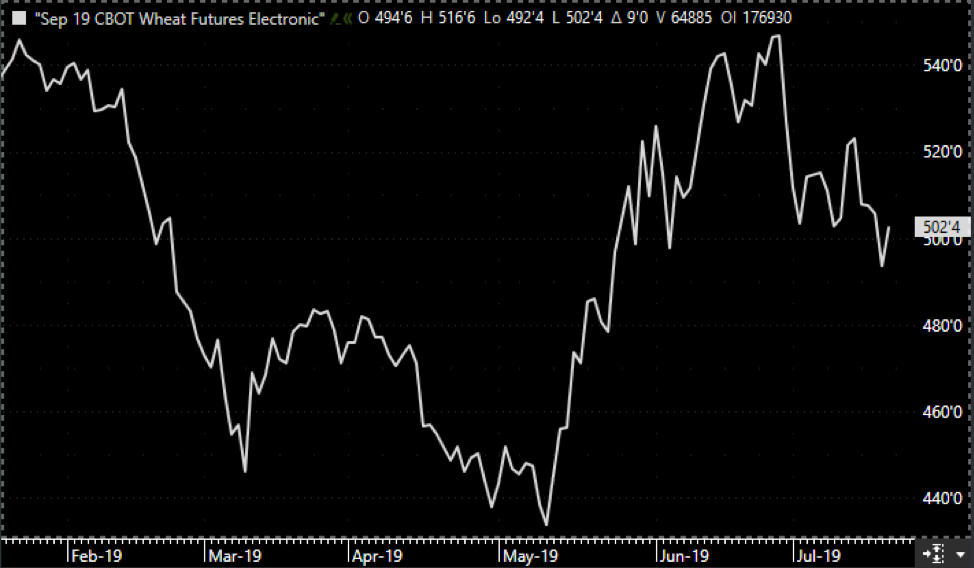 ---
In Summary
Weather continues to dominate market movement.
Weather models were wrong in predicting long periods of hot and dry weather.
Crop conditions surprised analysts by improving in condition week over week.
This combination allowed for long liquidation this week.
Friday saw bargain buying which allowed for large intraday gains.
Stay tuned to andersonsgrain.com for the latest commodity market information.