Weekly Market Wrap-Up
Grain Market Commentary
Friday, February 7, 2020
by Paul Matthews, Associate Merchant, The Andersons
This week kicked off with soybeans touching eight-month lows during the night session as the trade is clearly continuing last month's bearish trend for now, however some bargain buying may help support soybean values in the near-term.
Export inspections reported Monday had corn down 117 thousand metric tons, soybeans up 296 thousand metric tons, and wheat up 184 thousand metric tons from compared to this time last week.
Tuesday's trade opened higher and continued throughout the day trade with a more positive outlook across the commodity sector. Asian markets including Shanghai commenced trading Monday after an extended holiday interlude, which may be contributing to some support for ag commodities as well.
Wednesday and Thursday introduced a bit more volatility into commodities with the announcement from China that they will be cutting tariffs on $75 billion of U.S. imports in half to carry on with efforts included in the newly signed phase one trade agreement. These cuts are set to begin on February 14th, and they are reported to include soybeans among other commodities. Export sales on Thursday reported wheat net sales down 48%, corn up 1%, and soybeans up 76% from the previous week. These sales figures await confirmation that will be published Monday.
Friday ended the week quietly on the positive side led by corn, as the trade mulls any continued Chinese buying with continued market uncertainty, the U.S. Dollar value being up to its highest level since mid-October, and an updated supply and demand report from the USDA due out next Tuesday.
March corn opened the week at $3.805 and closed at $3.835 a 3-cent increase for the week.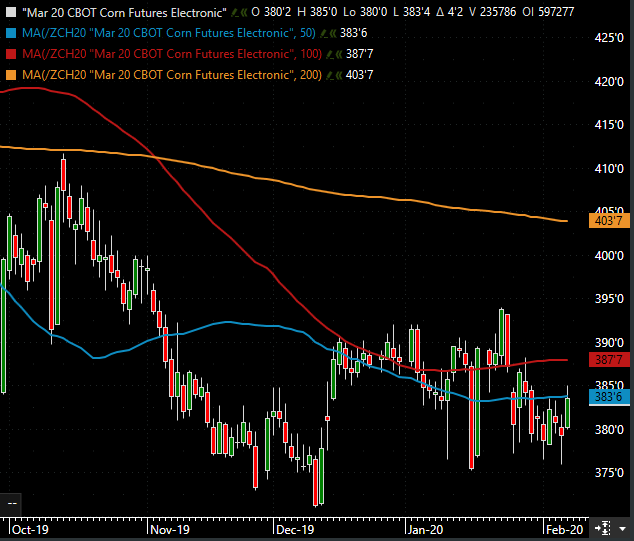 March soybeans opened the week at $8.7075 and closed at $8.82, a 12-cent increase for the week.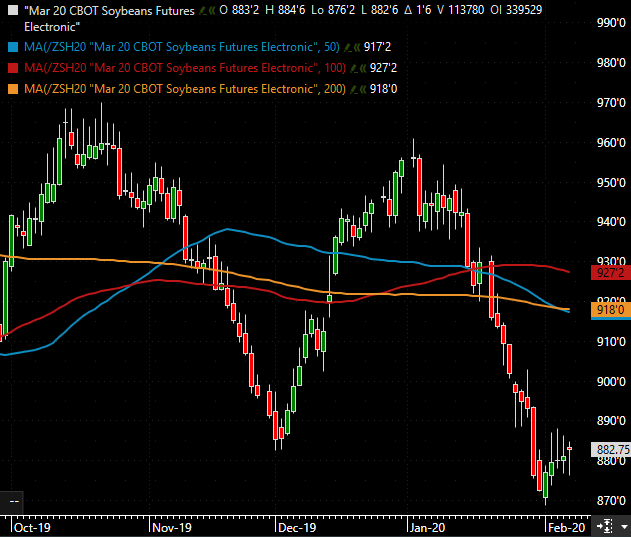 March wheat opened the week at $5.5125 and closed at $5.5875, a 7-cent increase for the week.
Stay tuned to andersonsgrain.com for additional commodity market information.