Weekly Market Wrap-Up
Grain Market Commentary
Friday, February 26, 2021
by Harrison Reiff, Associate Merchant, The Andersons
Monday's trade started off with March Corn futures opening at 5.4425 and finished the day up 6.75 to close the day at 5.51. March soybeans opened the week at 13.8475 and closed Monday down one cent at 13.8375. The trade was fueled by low US Soybean carryout numbers and a slower harvest reporting from Brazil.
Tuesday showed corn trading slightly higher with futures closing the day at 5.5375. March soybeans on Tuesday had a large trading range, trading as low as 13.8075 and as high as 14.2500 futures, finally settling and closing the day up 22.25 cents. Soybeans were the main focus on Tuesday with rumors hitting the trade wires showing potential quick ship purchases from China, delayed South American harvest, and some less than stellar South American yields.
Corn trade on Wednesday reflected futures trading higher and briefly breaking through 5.60 but finishing the day at 5.5925. The bean rally continued on Wednesday with March soybean futures trading higher by 17.75 cents to close the day at 14.2375. We also saw a decline in weekly ethanol production of 253 tbd due to the high Natural Gas prices from the winter storms that went through the country last week.
Thursday trade had corn falling off 4.5 cents to close the day at 5.5475. Thursday soybean trade had a 51.25 cent trading range trading as high as 14.4300 and as low as 13.9175. The day closed back down to 14.0600 futures. Futures sold off as the export market showed China cancelling some contracts with the US and changing some sales to other countries like Vietnam.
To finish the week off, March corn futures on Friday traded up 1 cent to close at 5.5550. March Soybeans finished the day 2.25 cents higher than the close on Thursday to close the week at 14.0525 futures.
---
March Corn futures opened the week at $5.4425, and closed the week at 5.555, a gain of 11.25 cents.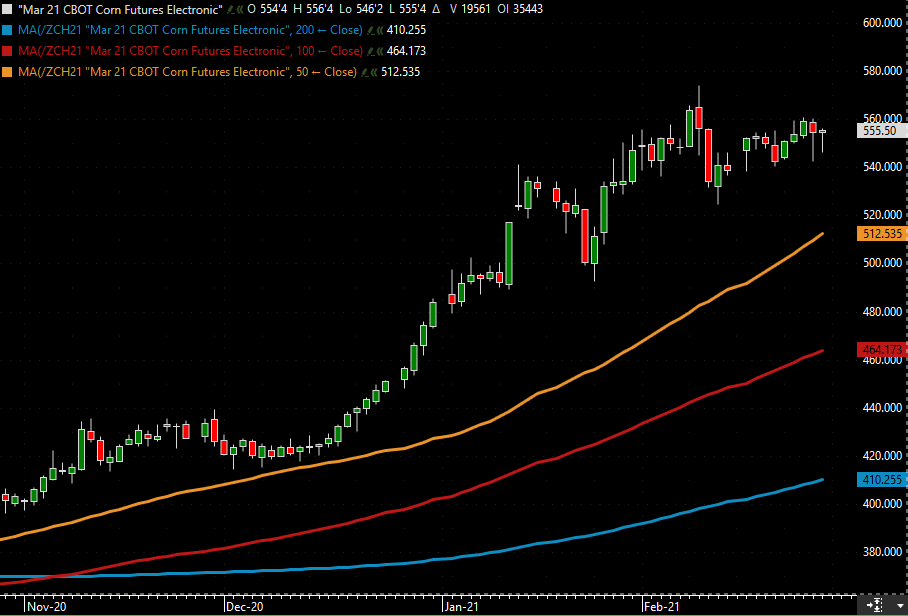 ---
March Soybeans opened the week at 13.8475 and closed the week at 14.0525, gaining 20.5 cents.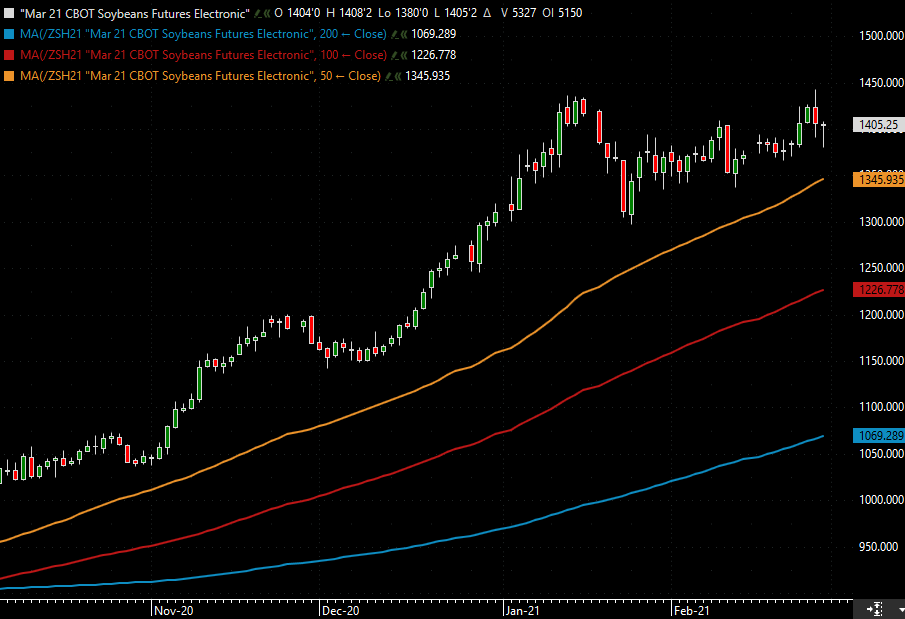 ---
March Wheat opened the week at 6.5375 and closed the week at 6.55, gaining 1.25 cents on the week.