The pandemic situation we have faced during 2020 has evolved by the day. One constant that we hold on to is harvest. Fall harvest is an amazing time of year and a culmination of dedication and hard work. As we approach harvest, please lean on your team here at The Andersons as your trusted partners. We encourage you to talk with your Merchant about a risk management plan that helps you manage profitability and mitigate risk as appropriate for your approach and tolerance. We can partner with you to choose tools that best complement your grain marketing plan and best cover your market exposure. Most importantly, the health and safety of you, your family and your team are at the very forefront of our thinking this harvest. Please take care of yourselves and your teams and we will do the same.
Have a safe harvest!

Bill Krueger
President, Trade Group
---
HARVEST DELIVERY REMINDERS
At The Andersons, we strive to be your partner of choice. Your customer experience is important to us, and in order to better serve your business, we would like to remind you of a few important policies and procedures that will ensure a smooth harvest delivery process. Please contact your Merchant with any questions.
Payment will be made to the customer name in which the delivery is made. Payment cannot be split among vendors after the application of bushels occurs.
To request that proceeds are placed in hold pay, please notify us before delivering.
Standard check pickup time is 3 pm. If a check is needed before 3 pm, please contact us, and we will make every attempt to accommodate.
Contact your local elevator for our policy on contract overages before delivering to the facility.
Returned checks from customers will not be accepted after 30 days from the date printed on the check.
Ensure the fastest possible processing time by enrolling in ACH Direct Deposit. Visit andersonsgrain.com/ach to download the form.
SAFETY TIPS
This fall, many of us will be working long hours as we attempt to harvest a large number of bushels in a short amount of time. These working conditions can increase the potential for fatigue and can tempt us to take risky shortcuts. We want all of our growers to have a successful harvest and, more importantly, a safe one. At The Andersons, we are taking actions to prevent the spread of the coronavirus. We ask that you, as a visitor to our site, join in our efforts to keep everyone – both visitors and employees – safe and healthy. Please take a moment to review some important safety tips before delivering to us.
We ask that all visitors be diligent in self-monitoring their health before, during and after their visit.
We encourage customers to remain in their vehicles while in line. If you need to leave your vehicle, high-visibility clothing is required so you are clearly visible in our high-traffic areas.
We have implemented social distancing, so please keep at least six feet of distance between yourself and other individuals on site and follow facility specific health hygiene requirements.
If there is a need to use tools, work stations or control panels used by others, please speak with your contact at the facility about how to maintain health hygiene in these areas.
GRAINweb
Our GRAINweb online portal allows you to view your positions on grain contracts and provides detailed ticket information. Contract Acknowledgement is also available now on GRAINweb. Whether contracts include option features, hold pay, deferred bushels, Freedom® Pricing Tools, or limit orders, GRAINweb contains both summary and detailed information.
Visit GRAINweb.com to enroll today.
Due to system limitations, we are temporarily unable to provide GRAINweb to customers in the states of Idaho, Louisiana, New York, Kentucky and Texas. Please contact your Merchant for more details.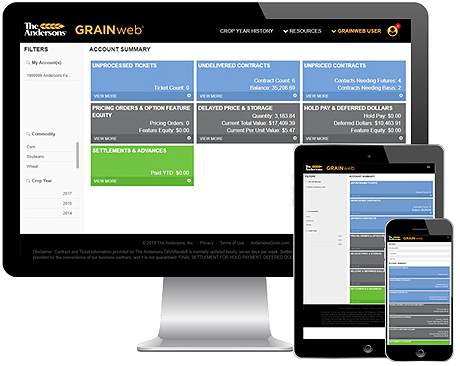 MOBILE APP
Download The Andersons mobile app. Our mobile app provides quick and easy access to the information you use each and every day including cash bids, location info. and hours, weather and more. Available for download on all iPhone and Android devices.
To learn more, visit andersonsgrain.com/mobile-app.