Special Market Update
Grain Market Commentary
Monday, June 10, 2019
By Rhett Montgomery, Grain Associate, The Andersons
Corn
July corn (CN19) traded unchanged to start the week, closing at $4.1475. While new crop December corn (CZ19) traded up 0.75c closing at 4.345. Prices are currently around 20c off their highs set at the end of May. Prices were pressured early in the session before rallying in late morning to close out the day even. This directionless trade starts out a week which is frontloaded with a few potential market moving reports. Firstly, this afternoon at 3 pm CST we will have our weekly crop progress report released which will include the first estimates of crop condition. The market today is looking for a planting progress % in the mid to low 80% range for corn, compared to a five year average of 100% complete at this time. Recent dryness has allowed for a good window of planting for Eastern Corn Belt producers, this has led to drops in prevent plant estimates and pressured prices early in the session.
Tomorrow at 11 am CST we will have our monthly WASDE report released. The report should be relatively quiet on the old crop side of things, the one revision seen as very likely is another cut to exports due to continuing lagging pace. This would of course push the carryout for 2018/2019 higher. The most intriguing part of the report given the last month's weather issues particularly in the Eastern Corn Belt, will be the new crop balance sheet. It will be interesting to see how things shake out as a reduction in planted acres seems necessary. At this point with the hard deadline for still retaining some insurance coverage on corn still on the horizon, and with the recent run up of prices seemingly incentivizing producers to plant corn for as long as they can, pinpointing what exactly the acres cut from the USDA's current 92.8M should be gets tricky.
This supply issue is compounded by the current USDA yield estimate for 2019/2020 at 176 BPA feeling too high given the issues planting the crop and concerns I have heard regarding soil conditions in the east. The 2019/2020 carryout won't reflect 100% of the supply cuts however as demand cuts seem likely, specifically to exports. Supply cuts may also be partially offset by an increase in imports, as some east coast end users have already booked corn from South America due to concerns over originating corn from the ECB. Also, another report the market will be watching is the plantings report out at the end of the month. Questions are already arising as to how reliable this report will be given the active late push in plantings after the majority of this reports data has been collected.
Another thing the market will be watching is continued trade concerns with Mexico. The U.S. and Mexico were able to come to an agreement late last week to avoid the 5% tariff from going into effect today. The market will be closely watching U.S.-Mexico relations as Mexico is the #1 export destination for U.S. corn. The managed money funds covered their entire record short during the rally in the second half of May, and now sit at around 50k contracts long. If they decide to go very long or stay relatively even will most likely be determined by the final outcome of acres planted as well as growing conditions throughout early/mid-summer. What develops during the next 4-6 weeks will set the stage for price longer term price direction.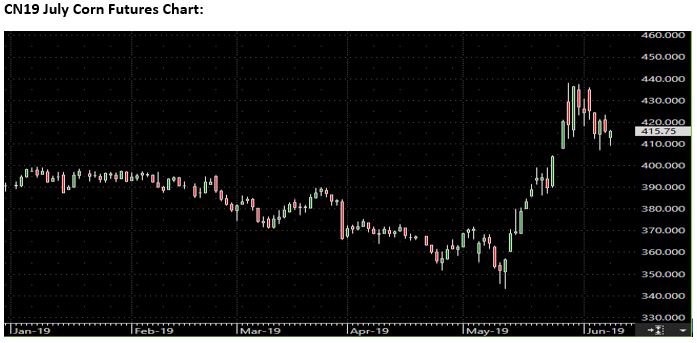 ---
Soybeans
July soybeans (SN19) traded up 2.25c today to start the week, closing at $8.585. New crop November soybeans (SX19) traded up 2.75c, closing at $8.8575. Soybean futures were down 7-8c early in the session but were able to rally off the lows, it appears mainly due to technical action and solid support being provided by the 20 day moving average. The market will be watching for any potential give and take between corn and soybean acres but at this point it appears that producers are doing whatever they can to plant corn given the recent rally. It seems likely that soybeans will gain some acres above the USDA projection of 84.6M due to planting delays for corn. With the rumored $2/bu. trade relief payout to soybean producers perhaps that incentivizes more acres as well but as of now that payout is not a guarantee.
The Crop Progress report this afternoon will be looking for a national planting % for soybeans in the mid to upper 50% vs a 5 year avg of 84%. The WASDE report tomorrow should be relatively quiet for soybeans. We may see something for an acreage cut in new crop, and the late planted soybeans will be susceptible to yield loss as well, but it also seems unlikely that the USDA will factor much in this early in the growing season so I don't expect any huge adjustments until the acreage situation is clearer.
Otherwise, the market continues to watch the same things it has been for the past several months, a trade resolution with China is still not in sight, and the administration has said new tariffs are prepared to go into effect at the end of this month if an agreement is not reached. The G-20 Summit takes place at the end the June and it should be the next opportunity for President Trump and President Xi to meet to discuss a trade resolution. This in combination with the June acreage report and summer weather will give us a clearer overall price direction for soybean futures. Until then, it seems prices will continue to remain choppy and stick to technical factors until the fundamental picture is refreshed.