Bulk DDGS, SOLMAX & Hi-Pro DDG
Your supplier for quality bulk DDGS
The Andersons has been supplying bulk DDGS (Dried Distiller Grain with Solubles) to livestock producers and millers for over 10 years. DDGS has become an important ingredient in livestock rations as it provides a high-quality and economical alternative to corn and soybean meal for all classes of livestock. Using DDGS can improve the availability of nutrients to the animal while often reducing the cost of the diet. Our goal is to produce a consistent, quality product that customers will want in their feed ration.
Logistics: Delivery & Pickup
We specialize in supplying your DDGS using rail and truck for dependable, cost-effective delivery. Close to one of our locations? We can offer DDGS to be picked up at one of our ethanol locations. Our investments and partnerships in truck and rail cars give us the advantage in our market to provide the most reliable and cost-effective service.

For Ethanol feed products including DDGS, SOLMAX and Hi-Pro DDG pricing, call 866-653-1892.
Sign up to receive location update texts related to production schedules, loadout hours, etc.

Credit app required before purchase.
Commercial: Download our Credit Application
Livestock Feeder: Download our Credit Application
---

Serving Customers Since 1947
The Andersons was established in 1947 as a single grain elevator, and since then has grown with its customers to become a diversified, publically-traded company. It is our mission to provide extraordinary customer service and to continue to grow with our customers. We look forward to working with you and becoming your dependable DDGS supplier. Call us today and we'll work hard to find the best solution that meets your specific DDGS needs: 866-653-1892

What are DDGS?
DDGS are a co-product of the ethanol production process. Distillers grains are rich in cereal proteins, fat (energy), minerals, and vitamins. They are an excellent source of digestible protein and energy.

Why use DDGS?
DDGS are a healthy way to supplement a livestock ration with a high quality ingredient rich in nutrients. Diets containing DDGS often reduce the cost of feeding livestock. Our customers continue to do business with us because we produce some of the most consistent DDGS on the market.

For more DDGS Information:

SOLMAX™
Produced at the Colwich, KS location coming soon
SOLMAX™ is a liquid product derived from the use of ICM's TS4 technology and is produced via clarified thin stillage after the removal of suspended solids. The remaining dissolved solids solution contains glycerol, acetic acid, unconverted sugars, salts, proteins and minerals, and is concentrated with extensive evaporation. SOLMAX can be produced from 55-70% solids (dry matter).

Gen 1. 5 Hi-Pro DDG
Produced at the Colwich, KS location coming soon
Gen 1. 5 Hi-Pro is a dried feed product derived from ICM's FST (fiber separation technology), TS4 (thin stillage clarification) and cellulosic fermentation in ethanol plants. The product is the outcome of combining protein solids remaining from FST and TS4 with fiber and protein solids from cellulosic fermentation. Adding post-cellulosic fermentation fiber creates a new feed product containing higher crude fiber than DDGS and other Hi-Pro DDG already on the market.
Ethanol Feed Products Hotline
866-653-1892
DDGS Locations
Albion, MI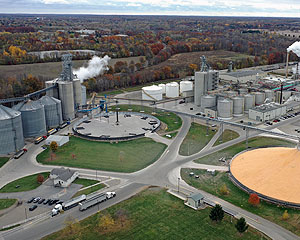 26250 B Drive N.
Albion, MI 49224
Loading Hours: 6:00AM - 5:00PM
Phone: 866-653-1892
Denison, IA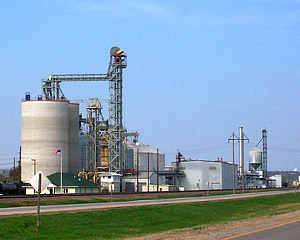 2404 Lincoln Highway
Denison, IA 51442
Loading Hours: 7:30AM - 3:30PM
Phone: 866-653-1892
Clymers, IN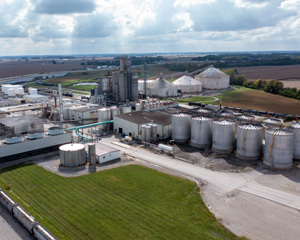 3389 W CR 300 S
Logansport, IN 46947
Loading Hours: 7:00AM - 5:00PM
Phone: 866-653-1892
Greenville, OH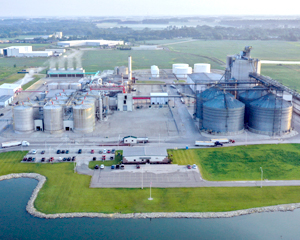 5728 Sebring Warner Rd.
Greenville, OH 45331
Loading Hours: 7:00AM - 6:00PM
Phone: 866-653-1892
Colwich, KS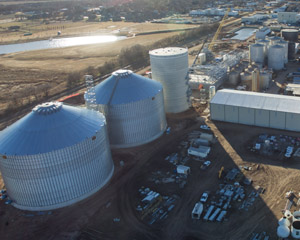 1 Element Dr.
Colwich, KS 67030
Loading Hours: 8:00AM - 5:00PM
Phone: 866-653-1892
Produces SOLMAX and Hi-Pro DDG coming soon
Contacts