Streamlining the process between delivery and payment!
Got a smartphone or tablet? Great! Use the Farm2Market SmartTicket web app to submit your delivery tickets and streamline the process between making a delivery and getting paid.
Quicker identification of tickets
Easy access to ticket copies for farmer and customer (especially if lost or misplaced)
Standard location of tickets to prevent mistakes
Better management of logistics
Reconciliation of FOB loads
Stronger transparency of entire process
Single Sign-on (SSO) technology
Tracking of delivered bushels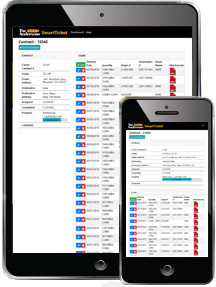 How Do I Use SmartTicket?
Get out your smart phone or tablet.
SmartTicket is meant to be used on smart phones and tablets, however, you can use your computer, but you'll need to save photos of your delivery ticket onto your computer and then add them to the SmartTicket form - it's easier to use a smartphone or tablet. Your phone or tablet must have a camera and access to the internet.


Have your delivery ticket(s) ready
You will need the physical copy of your delivery ticket on hand.


Go to the SmartTicket website - https://www.andersonstickets.com.
Using your phone or tablet, go to the SmartTicket website. There is also a link at the very top of andersonsgrain.com that will take you to SmartTicket. Login with your Single Sign-on (SSO) account to take you to your secure carrier dashboard.


Fill out the form for each ticket
Please fill out as much of the form is possible. If you have more than one ticket, you'll need to submit this form for each ticket. You cannot group multiple tickets in one form. It's important to click on the green "Load" button on the Contract you are adding tickets to.


Take picture of your ticket
You will notice on the form that it'll ask you to take one or more photos of your physical ticket. Click the gray "Select" button , you will then be asked to take a photo or choose a photo from your phone that you've already taken. If you need to add more than one photo to the form, select the green "Image" button , and then select the second, gray "Select" button to upload another picture. Make sure the photo is not blurry. Please clean the camera lens on your phone or tablet with a soft cloth so the picture is clear.


Hit the green "Submit" button when form is complete

Once the form is completely filled out, go ahead and hit the green "Submit" button. If you filled out the form correctly, the ticket entered will be availble for viewing on your load history for that contract.


Need help? Contact your Farm2Market representative
Frequently Asked Questions
Why should I use the SmartTicket web tool?
Our SmartTicket web tool provides users with a convenient method of inputting and uploading ticket information that will ultimately result in more accurate and timely processing. Lost or misplaced tickets will be easier to access once they are stored in the web tool.


How do I access the SmartTicket web tool? Do I download it from the App Store?
SmartTicket is ONLY accessible via internet browser at AndersonsTickets.com. You will not find it listed in any App Store.


Who do I contact if the SmartTicket web tool is not working for me
Contact your representative from The Andersons or Aaron Keyer at 419-891-2604 or aaron_keyer@andersonsinc.com.


I do not have a smartphone. Can I still use the SmartTicket web tool?
Yes, but now is a good time to consider investing in a smartphone! You can still access the SmartTicket web tool on a computer. Just scan your documents and upload them. It is also still possible to pass along your ticket information to your account representative, but this option is not preferred.


Do I need an email address to access the SmartTicket web tool?
Yes, you need a valid email address and SSO login. Click here to register for a SSO login.


How long should it take to submit a ticket using the Smart Ticket web tool?
Once familiar, users should be able to submit a ticket in approximately 30-45 seconds.


How quickly do I need to submit my ticket(s)?
Please try and submit your ticket(s) on the day of delivery to ensure timely service and communication.


What if I forget to submit my ticket(s)?
Please submit your ticket(s) as soon as you remember.


Will I be paid more quickly if I use the SmartTicket web tool?
Yes. The quicker you enter your tickets, the quicker you will be paid.