Special Market Update
Grain Market Commentary
Monday, May 13, 2019
By Rhett Montgomery, Grain Associate, The Andersons
Corn
July corn (CN19) started the week up 4.75c, closing at $3.5650. New crop December corn (CZ19) traded up 4.5c, closing at $3.7650. For the month of May, CN19 is down 6c.
It was a two-way trade today with corn starting the session down 6-7c before rallying throughout the session to close 4-5c higher. The biggest storylines driving price movement are planting progress across the eastern and western corn belts, the WASDE report released on Friday, and the ongoing trade dispute with China. Starting with the WASDE, Friday's report gave us our first look at the balance sheet for the 2019/20 crop year. The USDA used the March planting intentions report acreage number of 92.8 mil, and a trendline yield of 176. The biggest cut for new crop demand came from exports, coming in at 2.275B vs 2.3B estimate for 2018/19. It was surprising that the USDA left the old crop export demand number unchanged from April, as current pace indicates the USDA estimate is still too high even after April's cuts. All totaled the changes in the estimates puts ending stocks at 2.095B for 2018/19, up 60M. 2019/2020 ending stocks came in at 2.485B bu, the largest in 30+ years.
Weather across the corn belts seems to be drying out in the next week or so which should allow a good window for farmers to plant as we enter a crucial week for planting progress. If by next week's report progress is still well behind pace, an eventual cut in the 92.8M acres of corn begins to seem likely. The next Crop Progress report is out today at 4pm, with the trade looking for a 10-15% increase in planting progress week over week. The five-year average for this time of year is 69%.
In technicals, the corn short is now estimated at net short -282K contracts. Slow stochastics are indicating a buy signal today as it appears that the $3.50 mark for July corn is serving as very good support for the move as today marks the second session in a row that the market traded well below that mark but would not sustain a move lower, rebounding to close above it. Overall, the market seems to be sticking within the downtrend channel which began in middle to late March. In the short term looking ahead, the next week of planting will go a long way in determining the direction of this market as with current bearish supply and demand outlook, it will take a planting delay/acre switch or a growing season weather event to spur any long-term rally in the corn market.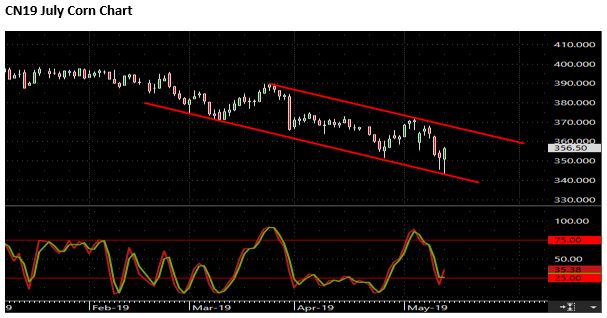 ---
Soybeans
July soybeans (SN19) traded down 6.75c to start the week, closing at $8.0250. New crop soybeans (SX19) traded down 5.75c, closing at $8.2750. For the month of May, SN19 is down 51.25c.
Trade headlines continue to dominate the market sentiment. Last week was a very busy week for the soybean market with a lot of information to absorb with Trump's Friday deadline for increasing tariffs, as well as the WASDE report on Friday as well. Starting with trade, the two sides failed to reach an agreement although there were comments that the talks were "constructive". Trump followed through on his promise to increase tariffs, and China retaliated this morning by raising tariffs on an additional $60 billion worth of U.S. products, going into effect on June 1st. Obviously the lack of a deal pressured things throughout last week and heightened tensions have caused pressure to start this week's trade.
The other catalyst in the market was Friday's report which was bearish. The USDA cut old crop exports by 100M bushels, in the process raising ending stocks to 995M bushels. If the U.S. cannot find some competitiveness moving forward in world exports, a push over the 1B mark isn't out of the realm of possibility. This is of course unheard of in soybeans. Similar to corn, the report on Friday gave us our first look at 2019/2020 supply and demand figures. The USDA plugged in the 84.6M acres with a 49.5 BPA trendline yield. Demand figures were about 200M bushels stronger for next crop year, but ending stocks still came in at 970M bushels. This just goes to show that this year's bearish stocks will weigh into next year and most likely the year after that. It is really a supply issue moving forward, even if China jumps back in with a "good faith" commitment to important soybeans (seems unlikely with ASF damaging feed demand), we are still more than likely looking at the second highest carryout on record for next crop year.
In technicals, stochastics has been treading in the oversold area since mid-April. In that time the market has only seen 4-5 up days. The market today traded as low as $7.91 but rallied to close above $8.00, which feels like it may act as a level of "psychological" support for the move. Managed money funds are estimated short -160K contracts, which is a new record.