Special Market Update
Grain Market Commentary
Tuesday, November 5, 2019
By Rhett Montgomery, Account Representative, The Andersons
CORN
Corn prices continued to slide lower today with December corn (CZ19) closing down 1.5c at $3.8175. The market is awaiting the next World Agricultural Supply and Demand Estimates (WASDE) report out this Friday 11/8 at 12 pm ET. The general consensus seems to be calling for cuts in the national corn yield due to ongoing historically slow harvest pace throughout the Midwest. These lower trade estimate ranges come on the heels of a few private analyst firms such as Informa raising their estimates month over month for corn yield. The bigger number to watch to me is the ending stocks for 2019/2020, as it will be interesting to see if any potential cut in the corn yield is simply offset by cuts in demand fueled by continued slow export pace in corn.
In technical action, the approaching 50 day moving average at $3.79 may provide support for the move. If there is a bearish surprise on Friday's report the next level of support is probably in the upper $3.60s to low $3.70s range on the December chart. On the flipside, a move higher right now is made difficult without fundamental support due to the 20 day moving average causing resistance at around $3.90 and above that the 200 day moving average sits right at $4.00 which of course would serve as a psychological level of resistance to any potential rally as well.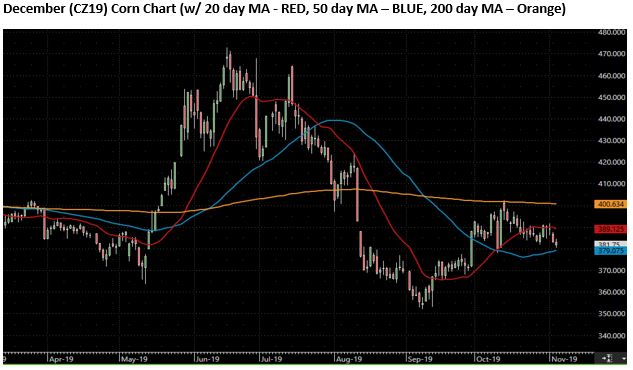 SOYBEANS
Soybean prices moved lower today as the market has consolidated here in the past few sessions awaiting more news regarding the two phase trade deal that is in the works between the U.S. and China. January soybeans (SF20) traded down 3.75c, closing at $9.3425. Since the September 9th low of $8.65 the soybean market has gained around 70c and currently sits off the mid October highs by about 25c. Right now the market continues to focus on ongoing trade negotiations between the U.S. and China. The potential deal's first phase was originally thought to have a planned signing date by mid-November, however, news reports today have indicated that China is looking for more tariff cuts by the U.S. as part of the initial deal. The market will also be watching the WASDE report on Friday for any further cuts in yield.
In technicals, the market has failed at the 20 day moving average of $9.41 in four of the past seven sessions. Support is seen at around $9.25. The 50 day M/A is also approaching the 200 Day from the bottom. This convergence, known as a "golden cross" would certainly be seen as a bullish technical indicator, but would need fundamental support from a yield cut and/or continued improved relations with China to spark an extended move higher.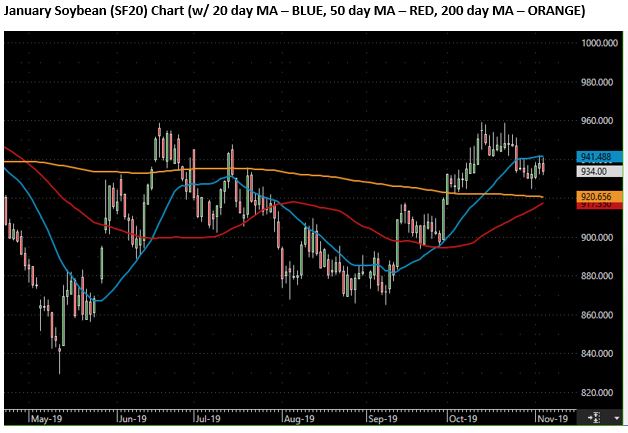 ---
KEY TAKEAWAYS
Corn markets slightly lower to start the week on sub-par export business and private analysts increased yield estimates.
Soybean markets slightly lower Tuesday. Market failed at 20 Day moving average. Consolidation ahead of phase one of China- U.S. trade deal.
WASDE report out on Friday, November 8 at 12 pm ET.

USDA reports are often followed by volatile price movements, please contact your Andersons rep to get any pricing orders in ahead of the report.