Special Market Update
Grain Market Commentary
Wednesday, October 2, 2019
By Rhett Montgomery, Account Representative, The Andersons
Corn
December corn (CZ19) closed at $3.8775 today, down 4.75c. Corn futures retreated today after posting 20c gains on Monday/Tuesday in wake of a supportive Quarterly Stocks report which saw the USDA cut 2018/2019 corn carryout from 2.4B to 2.1B bushels. This cut comes despite struggling ethanol usage and weak export demand throughout the marketing year, leading to many wondering if the USDA simply missed the 2018 yields at 176.4 average national BPA. Weakness this morning can be attributed to brokerage firm FCStone estimating early 2019 yields at 169.3 BPA, up just over a bushel from the USDA's September published number. Harvest progress and yields will continue to be the main drivers of the corn market as participants attempt to formulate a more certain conclusion on the impact of widespread planting issues last spring, especially in the eastern corn belt. Export business as we enter harvest will also be a focus as typically it is a time when business will shift to abundant U.S. supplies. Weather was more or less ideal for finishing the crop up to this weak, however, now the Midwest is seeing rainy conditions that has halted harvest just as it began to take off and could refocus concerns on crop maturity as we enter October.
In technical action, December corn futures broke above the 50-day moving average for the first time since mid-July. Moving forward it will be interesting to see if that level (3.83) can hold support. The 9-day MA has been supportive over the past few weeks as well and both averages are converging on the $3.80 level so that may be seen as the next downside target and support moving forward as long as fundamentally we can remain supportive in subsequent USDA reports. In the short term, the next upside target will be the 200-day moving average and psychological resistance level of $4.00. Managed money funds are estimated short approximately 100k contracts of corn.

Soybeans
November soybeans (SX19) also saw a correction today despite yesterday's announcement of China purchasing 100MMT of soybeans in a round of tariff waivers. SX19 closed down 5.75c today at $9.1375. Similar to corn, soybeans also saw a cut in ending stocks in Monday's report to 913M bushels from 1.005B in the September WASDE report. This is due to revisions in 2018 production. From where I sit in Nebraska soybean harvest has just started to take off over the weekend and into this week before steady rains have momentarily slowed it down. So far soybean yields are expected to be average, but the bigger concern is that many are behind, and these rains have not helped in that regard. Technically speaking, the market broke above the 200-day moving average for the first time since mid-July, but failed at the $9.20 mark. The market will be looking for more steady demand prospects from China and any potential yield slippage in order to sustain a move higher. Managed money funds are now estimated at net short 20K contracts of soybeans.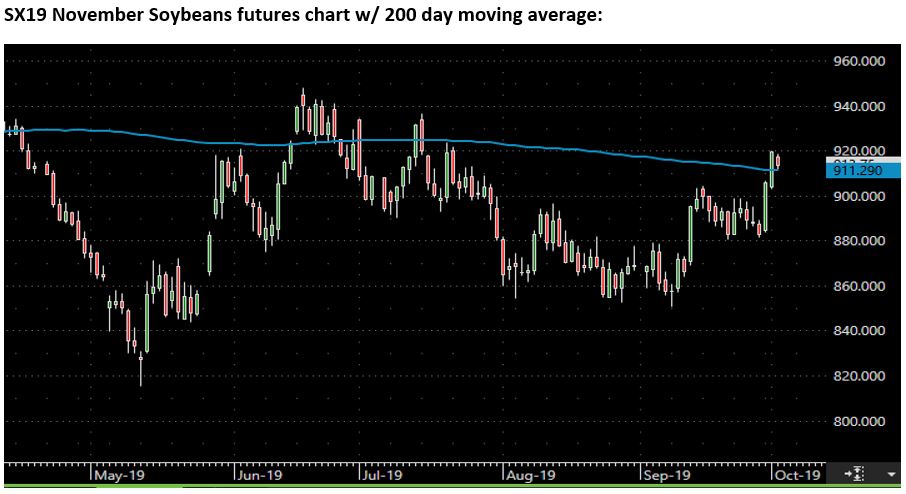 Key Takeaways:
Grain markets down due to market correction and increased yield projections for corn. However, up on the week due to sharp declines in 2018/2019 carryouts.
WASDE reports on Oct 10th and Nov. 8th will include field data for harvest 2019 and could be potential market movers.
Please tune in to andersonsgrain.com for further market updates.