Special Market Update
Grain Market Commentary
Monday, February 10, 2020
By Rhett Montgomery, Associate Merchant, The Andersons
Corn
Old crop March corn (CH20) traded 1.75c lower to start the week today, closing at $3.8175. New crop December 2020 corn (CZ20) traded down half a penny, closing at $3.9350. With the exception of a few volatile sessions the market has been content to remain in its sideways action which has been the feature for the past couple months. The market did take a leg down in the last 10 days of January amid growing concerns regarding the coronavirus outbreak in China and its potential impact on international trade. However, the market again lacks any clear direction as it is in full "wait and see" mode with South American harvest looming, North American planting looming, and two major trade deals still being digested by the trade.
The trade for now will be looking for small cuts to ending stocks in tomorrow's WASDE report out at 12pm EST. The big question going into this report was if the USDA would account for the ongoing coronavirus outbreak when figuring China demand prospect for the rest of the crop year, and also to what degree the USDA would account for the vague phase one deal with China in their demand figures. That question was partially answered late last week in a release from the USDA basically stating they do consider these macroeconomic events but the many non-public aspects of the trade agreement in particular will make it hard for the USDA to get too carried away in their estimates. All of these unknowns lead me to believe tomorrow's report will be more or less neutral, with many trendsetting events still on the horizon including and perhaps most impactful to the corn market being how the USMCA trade deal's implementation process develops.
In technical action, front month corn continues to meet resistance at the 50-day moving average of $3.84. Support to the downside is at $3.75, with support below that at $3.71 and $3.65. Funds are net short about 55k contracts of corn as of the last Commitment of Traders report.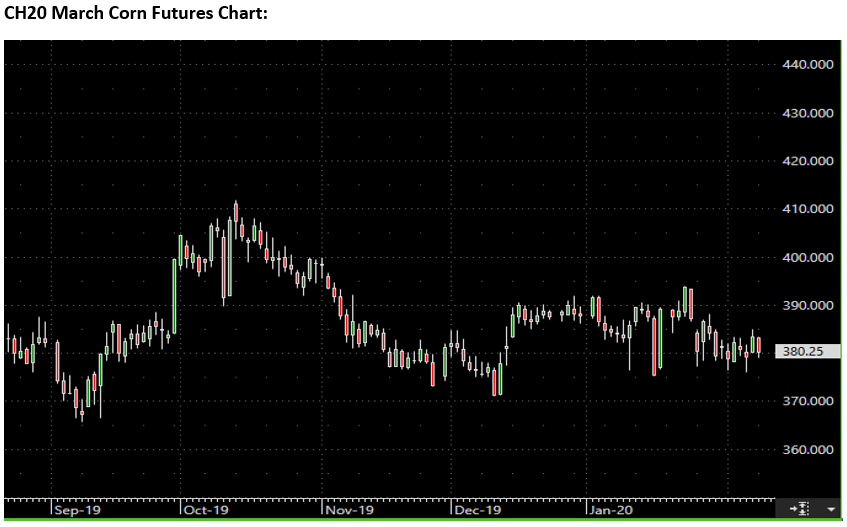 Soybeans
Old crop March soybeans (SH20) traded up 2.25c, closing at $8.8425 to start the week. New crop November soybeans (SX20) traded down 0.75c, closing at $9.1925. The trade was a mixed bag today with soybeans trading as much as 7c higher early in the session before losing momentum throughout the morning. This has been the case for the past few sessions, with 10c or so ranges closing up only a penny or to by the end of the session. This is indicative of how cautious the market is currently to move much higher without concrete commitments from China in the face of the health issues they are dealing with. The market clearly was due for a correction after a brutal second half of January which saw the market collapse around 50c, but any sustained move higher will take some backup from fundamental support.
Similar to corn, tomorrow's WASDE report is looking to be a neutral affair. While domestically we may see a slight cut to 2019/2020 ending stocks. The Brazilian production number should be very large with no palpable threats to production thus far. Again, as mentioned above, the USDA it seems will be waiting for more solid details regarding the phase one trade agreement before incorporating those prospects into their monthly estimates.
In technicals, the market is currently slightly oversold, and the stochastic indicators showed a buy signal for March soybeans last week. Resistance in in the $8.90 area for March soybeans with the next upside target being $9.00. Support is seen at $8.79 and below at $8.69 and $8.65. Last week also saw the 50 day moving average cross below the 200 day MA. This is a commonly traded technical indicator of an impending selloff known as a "death cross", but of course should be considered alongside the bigger picture fundamentals and long term trends.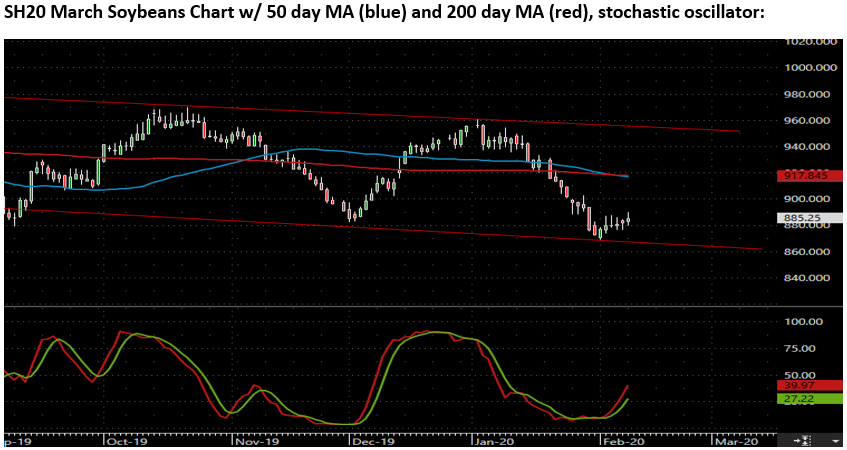 Key Takeaways:
USDA WASDE Report out tomorrow at 12pm EST. Trade is looking for small cuts in ending stocks for both corn and soybeans.
Coronavirus concerns continue to be a heavily traded story day to day.
USDA will wait for concrete commitments from China to incorporate into their monthly estimates.
Please tune in to www.andersonsgrain.com for more market updates, especially tomorrow for summary of the February WASDE report.