Special Market Update
Grain Market Commentary
Tuesday, January 11, 2022
by Rhett Montgomery, Associate Merchant, The Andersons
Corn
Old Crop March corn finished up 1.25c today, closing at $6.01, while new crop December corn closed at $5.5750, up half a cent.
The trade continued its choppy action ahead of the USDA WASDE report out tomorrow at 12 pm EST. The recent trade is indicative of the varying opinions on tomorrow's report in the trade, as well as how important this report feels in terms of setting an overall tone to the market. The big numbers to watch on corn will of course be the national yield estimate, but perhaps more important will be how the USDA balances out any raise/cut in yield with demand adjustments. The case could be made that the USDA is low on their ethanol usage, but maybe a bit high on their export predictions. The current carryout is 1.493B, a move above 1.5B would be bearish and probably mean a corn price in low to mid $5 range would be fair. When gauging the carryout's potential impact on price, it is worth remembering that the trade was assuming a potential sub 1B bushels carryout last crop year to send prices soaring to $7.70+. We are looking at quite a bit more corn supply in the mix this year regardless. The market will also be watching for any cuts to the South American corn crop, this recent weather scare is maybe a little early to greatly impact Brazil's output as the second crop is yet to be planted and is the bigger of the two. Conab cut the Brazil estimate today -4 MMT to about 113 MMT due to drought, but it is worth noting that this is still an increase of 26 MMT year over year, and currently a record.
In technicals, the market tested the $6.00 mark on front month futures for the 4th consecutive day today, and regardless of a $5.9975 close yesterday managed to close back above that mark today at $6.01. The market is clearly unwilling to value corn below $6 today given the report tomorrow and are willing to wait and see where the balance sheet shakes out. On a bullish report tomorrow, upside targets to keep in mind will be the $6.18 mark hit on the 28th of December, and beyond that the bulls will be aiming for $6.30-$6.40. $6.4050 is the contract high for CH22 March corn. Downside support in the event of a bearish report will first be seen at $6.00, below that a return to the $5.80-$5.90 range, and beyond that the bears will be looking at the 100 and 200 day moving averages at $5.64-$5.60 respectively.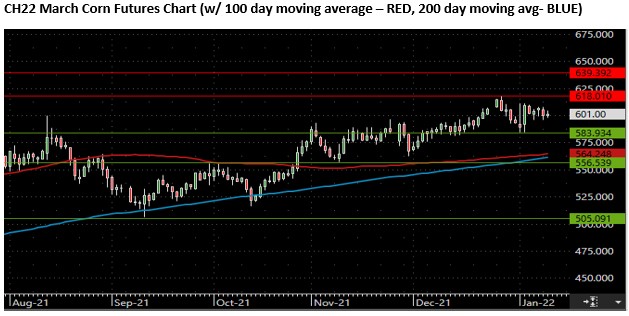 ---
Soybeans
Old crop March soybeans closed at $13.8650, up 1.75c. New crop November beans closed down half a cent at $13.00.
Today was a relatively quiet day for beans, especially compared to recent weeks which has seen big ranges as well as a big rally in prices as March beans have rallied over $1.50 since the beginning of December on South American weather concerns. Conab-Brazil cut their soybean estimate today by a couple million metric tons, however it still sits at a record estimate. Harvest in Brazil is just starting to kick off on soybeans. Tomorrow's USDA report trade estimates are calling for a slight cut in the yield but there are enough demand concerns that the average carryout guess is being predicted at 8M bushels higher. Exports are obviously the main concern, with the USDA well behind last years pace and the pace set by the USDA while entering a period seasonally dominated by South America. While tomorrows report will certainly carry some weight the most important development to keep an eye on may be rains in South America moving forward, if tomorrows report comes in fairly neutral then I would expect the trade will quickly return to the weather market it has been for the past 3-4 weeks.
In technicals, the market managed to close above $14 for the first time since June 2021 but could not hold this and quickly retreated to the $13.80-13.90 area. Any continued rally from here will have its sights set on $14, consecutive closes above that mark would make a run toward contract highs of $14.35-50 the next target. Downside support would be at $13.35 and below that the $13 mark with be where the bears will be looking on any potential selloff fueled by tomorrows report.