Weekly Market Wrap-Up
Grain Market Commentary
Friday, February 8, 2019
by Jay Smith, Grain Associate, The Andersons
Markets were choppy and on edge early in the week as trade news of sales to China from the end of last week carried over. The news slowed dramatically as the week progressed due to the week-long Chinese Lunar New Year. But, it was announced that President Trump and President Xi would not meet again before the March 1st tariff increase deadline which did contribute to commodity and equity markets to grind lower. The commodity markets were then content waiting on the delayed WASDE report and USDA data dump on Friday. The report includes final production numbers for corn and beans as well as plantings for wheat. The report was quiet compared to what the expectations were. Corn, soybeans, and wheat remained rangebound through the release. There were also two COT reports released but the news was backdated so trade did not react to them as it normally would. The State of the Union address did not offer any insight into trade war clarity so overall no major positioning had been established before the report was released. South American weather has turned benign, but trade will still be focused on the CONAB update to see if any cuts have been made to production estimates.
---
March corn opened the week at $3.77 and closed at $3.74. A 3-cent decrease. Corn yield was lowered two bushels to 176.4 for a final national yield. The carry out was slotted at 1.73 billion bushels. A large cut was made to corn for feed use with a reduction of 125 million bushels.

---
March soybeans opened the week at $9.17 and closed at $9.14. A 3-cent decrease. Soybeans were quiet upon the report's release. Ending stocks were reduced to 910 million bushels from 955 million bushels in December which is a welcomed cut but still leaves a daunting bottom line for stocks.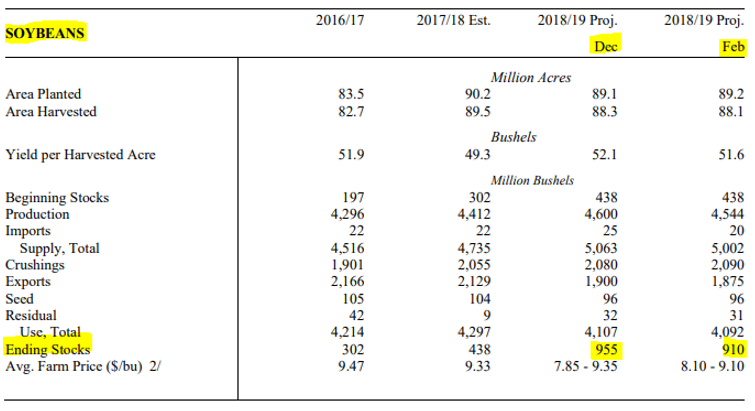 ---
March wheat opened the week at $5.24 and closed at 5.17. A 7-cent decrease. The WASDE report did reveal a 1-billion-bushel wheat carry out which was higher than the average estimates. It will be interesting to monitor how this higher than expected wheat carry out effects spreads moving forward.