Weekly Market Wrap-Up
Grain Market Commentary
Friday, January 11, 2019
by Paul Matthews, Account Representative, The Andersons
News in the market this week was the conclusion of three days of trade talks between China and the U.S. that did put an initial positive lean on grain prices. The announcement Thursday stated no specifics, however a "foundation was laid" with mutual understanding to maintaining close contact in the future.
Also adding to the positivity is the current weather conditions in Brazil – the northeast growing region is under a large area of high pressure that looks to be lodged in place for at least the next two weeks. The temperatures for this region are also above normal for this time of year. This is a critical time for soybeans as 60% of the total crop is filling pods. This uncertainty has caused some estimates to reduce the Brazilian crop overall.
CONAB released fresh estimates on Thursday with a lowered Brazilian soybean production which was in line with expectations given the short-term forecast being hot and dry. Longer term models are indicating better precipitation however, and this will likely cap any significant rally.
On the WASDE side of things, the market is blind given the government shutdown. The trade was anticipating a supply and demand update on Friday in addition to winter wheat seeding figures and crop production estimates. The trade may have to wait until February to get any numbers from the USDA.
Soybeans
March bean futures opened the week at 9.21 and finished the week at 9.1025 in a mostly choppy trade. (see chart below)
March Soybean Futures: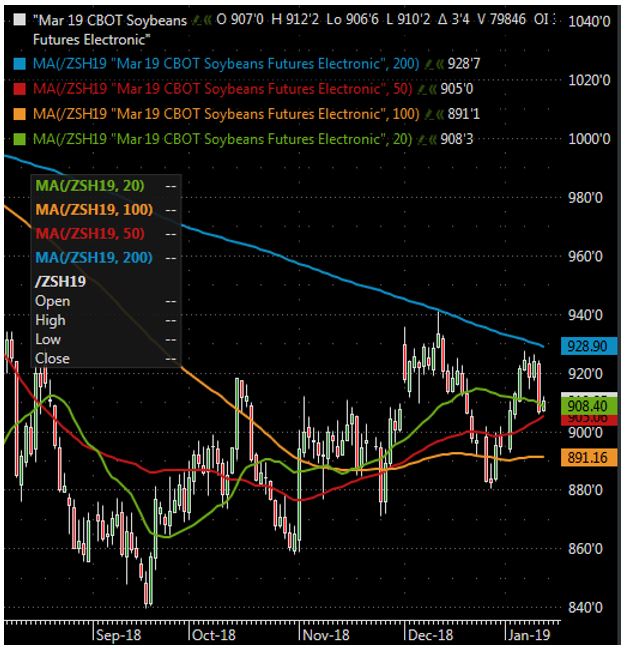 ---
Corn
March Corn opened the week at 3.8225 and finished the week down at 3.7825, staying in a choppy trade topping out around 3.84. (see chart below)
March Corn Futures: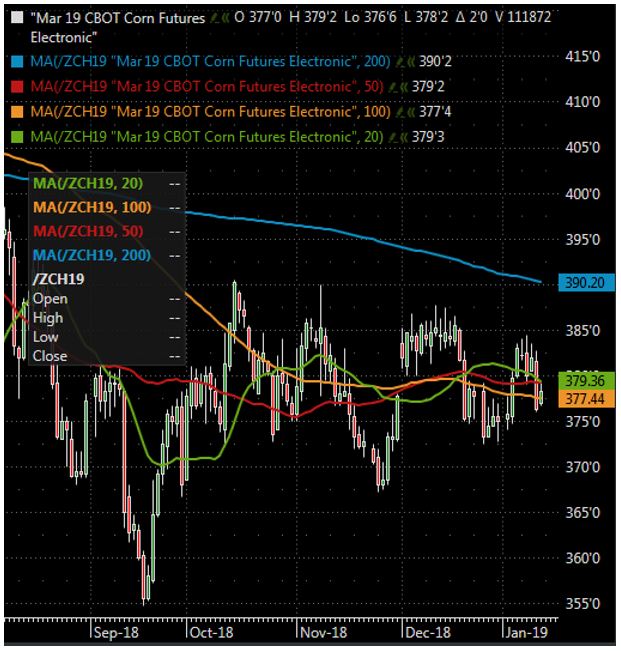 ---
Wheat
March Wheat futures opened Sunday night at 5.18, and finished the week up slightly at 5.195. (see chart below)
March Wheat Futures: