Weekly Market Wrap-Up
Grain Market Commentary
Friday, January 4, 2019
by Jay Smith, Grain Associate, The Andersons
Another shortened trading week due to the New Year holiday. Regardless, the markets were keeping a close eye on multiple factors, both in the immediate short term and longer-term fundamentals. First, the geopolitical issues between the U.S. and China and the trade war. U.S. officials are set to visit China early next week to discuss the tariffs. Rhetoric has remained positive, but markets are continuing to wait until further purchases or even lifting some of the tariffs. Analyst and government officials are hoping for some good faith ag purchases before the meeting. Next, is the ongoing U.S. government shutdown. There was a meeting on Wednesday which yielded no results, some were hoping the shutdown ends sometime late in the week, but it will continue for the foreseeable future. No progress has been made and the USDA reported Friday morning that the January 11th report will be delayed until further notice due to a lack of staff and funding. This report is important as it includes final production numbers and the December stocks report. Finally, there is dryness developing in Brazil and flooding in Argentina which may have impacts on yields. Until further developments in these areas, the markets seem content on sideways, rangebound movement.
March corn opened the week at $3.75 and closed at $3.83. An 8-cent increase. News in corn relies heavily on the visit to China next week, as there is some hope for good faith ag purchases from China especially in corn as it has the tighter balance sheet. CONAB has decided not to drop corn estimates in South America yet, but if dryness persists into second crop it can be expected that corn estimates may fall.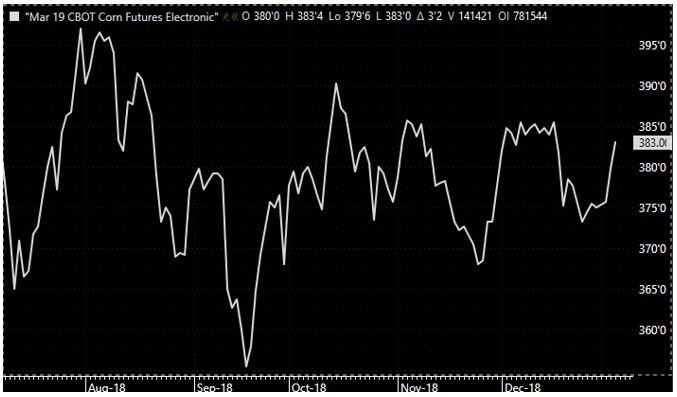 March soybeans opened the week at $8.98 and closed at $9.21. A 23-cent increase. Dryness developing in Central Brazil is important to follow for U.S. soybeans moving forward. CONAB dropped its Brazilian soybean production numbers to 116 million metric tons from 120 million metric tons citing yield declines from the dryness. This is a potential negotiating point for the U.S. in next week's meetings as China is relying heavily on Brazil to supplement the lack of U.S. beans.