Weekly Market Wrap-Up
Grain Market Commentary
Friday, July 12, 2019
by Jay Smith, Grain Associate, The Andersons
The weeks weather models shifted from dry and hot to wet and warm and finally back to hot and dry which in this volatile weather driven market environment had prices choppy. Early week weather models brought remnants of tropical storm Barry brewing in the Gulf of Mexico to the Midwest which, if realized, would have been a major relief from the hot and dry weather. But, models for most of the belt are now pointing to very hot and dry for the next 15 days. Weather will continue to be the driving force as we approach a critical point for crop development. The delayed COT report was released Monday evening which sent a bit of a shock through the markets. It revealed relatively unchanged managed money positions even after the major selloff following the acreage and stocks report at the end of the month. This reveals that managed money was much longer than initially anticipated. Analysts anticipated a bearish story in corn and a bullish story in soybeans for the July WASDE report, which was realized. It was released on Thursday and trade paid attention for about an hour before shifting its focus directly back to the weather models. Even with the massive amounts of old crop stocks, any threat to this year's crop is going to get the markets attention.
---
September corn opened the week at $4.43 and closed at $4.55. A 12-cent increase. The crop condition report had corn at 98% emerged compared to 94% last week. 57% of the crop was in G/E condition compared to 56% last week and 75% this time last year. The WASDE report used the June acreage report acres number of 91.7. Most analysts are still not sold on this number. The yield remained the same as June at 166. Carryout numbers increased, as poor export numbers are starting to take their toll. The report also had corn old crop carryout at its highest levels in over 30 years.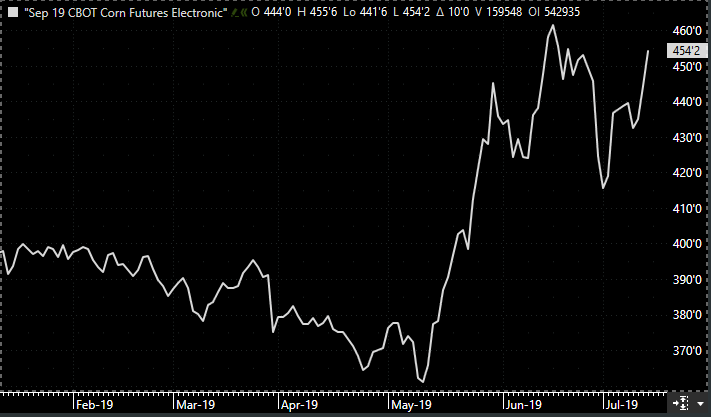 ---
August soybeans opened the week at $8.83 and closed at $9.13. A 30-cent increase. The crop progress report had soybeans at 96% planted compared to 92% last week. 53% of the crop was in G/E condition compared to 54% last week and 71% at this time last year. Ohio was rated at just 28% G/E. Soybean WASDE acres were also reflective of the acreage report, coming in at 80 million acres down from 84.6 in June. They pegged the yield at 48.5, down from 49.5 in the June WASDE report.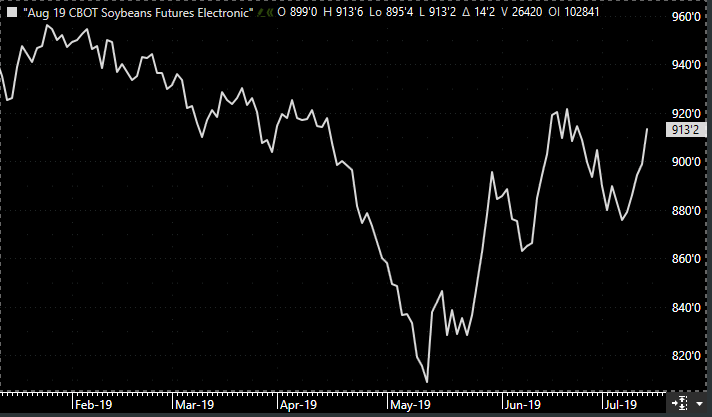 ---
September wheat opened the week at $5.18 and closed at $5.23. A 5-cent increase. Early week wheat rose on strength from corn and concerns over the size of the global crop which was later confirmed in the WASDE numbers. Russian ag consultancy cut their wheat output estimates by 6.8%. Winter wheat was 47% harvested compared to 30% last week and a five-year average of 61%. The WASDE report was surprising for wheat with higher U.S. exports and larger cuts to Russian, Ukrainian, and European production than analysts had thought.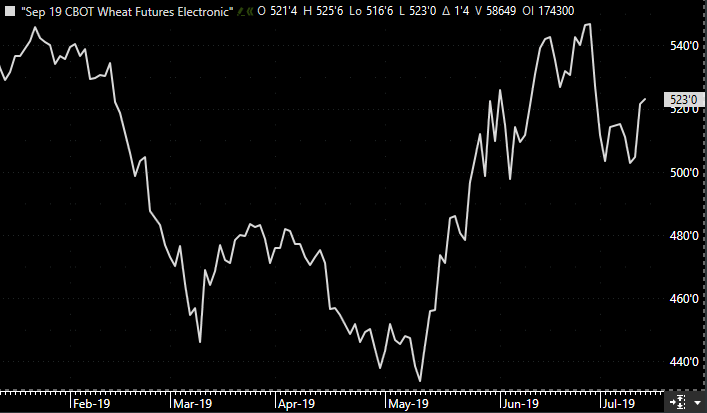 ---
In Summary
Weather continues to be the driving force behind the markets.
July WASDE report confirmed what analysts believed.
Stay tuned to andersonsgrain.com for the latest commodity market information.