Weekly Market Wrap-Up
Grain Market Commentary
Friday, June 7, 2019
by Paul Matthews, Account Representative, The Andersons
The trade was looking for US corn planting Monday night to come in at 68%-70% complete vs 58% last week and five-year average of 97%. US soybean planting expected at 40% vs 29% last week and a five-year average of 75%. However as may have been expected the corn planted overall came in lower than expected at 67% and soybeans also came in lower at 39% planted. This caused futures prices to open firmer Monday night and into Tuesday during the day trade to start the week.
This marks four consecutive weeks that crop progress numbers came in at below trade expectations. Many questions still remain such as how much acreage has been lost to prevent plant and how much corn acres will be switched to soybeans. This debate will rage on in the short term and no doubt impact price action moving forward.
The US weather trend for the 1-5 day forecast is showing drier, however rains return this weekend and emphasis on near term as growers are running out of time. Next week's progress report may be more heavily weighted and markets will stay edgy and volatile until the trade is shown a more complete picture of planted acreage and prevent plant scenario.
Looking to next week there are several items to consider that will weigh heavily on the market as the trade looks to Monday night's crop progress in addition to a supply and demand update from the USDA on Tuesday at noon. The trade will likely consolidate its position ahead of those two potentially major market movers. In addition to these, trade continues to arise as a challenge to US exports with a new round of tariffs now being imposed on Mexico adding to the already looming trade crisis with China.
---
July corn opened the week at 4.26 and closed at 4.16 – a 10 cent decrease overall. Corn planting progress is estimated to be at or near 80% Monday night overall among the 18 major corn growing states. This is against last week's progress number at 67%. The five year average on corn for this time of year is better than 90% completed.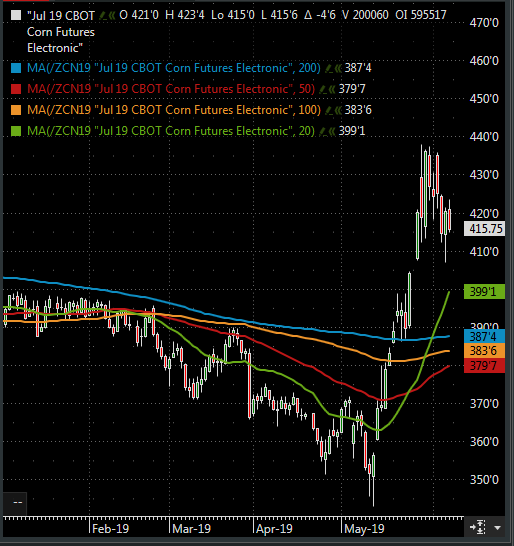 ---
July soybeans opened the week at 8.75 and closed at 8.56 – a 19 cent decrease overall. Soybean planting last week was pegged at 39% complete against a 79% five-year average.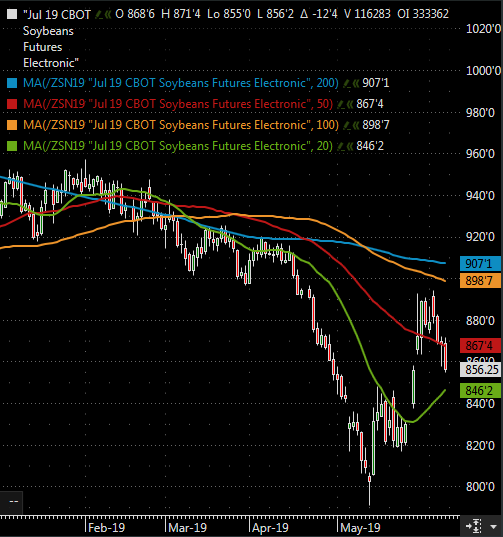 ---
July wheat opened the week at 5.05 and closed at 5.04 – a 1 cent decrease overall.