Weekly Market Wrap-Up
Grain Market Commentary
Friday, March 15, 2019
by Jay Smith, Grain Associate, The Andersons
There was poor chart action early in the week as we gained no positive news from Friday's WASDE report and no fresh news on the trade war front. There have been massive amounts of selling and proves shorts will remain in control until fresh fundamental news is released. The question now is how far down will the bears push grains? As money continues to pour into short positions it is estimated that we are near record shorts across all grains. There is little news to entice new longs or short covering. For the time being, there is no fear in adding to short positions. Fundamentally markets will be looking for trade war news, the South American growing season, and the end of month planting intentions report. But, until fresh fundamental news is produced, the path of least resistance is lower. Repositioning was evident Tuesday as markets had a nice pop, but open interest did not fall too much, which tells us it was not all short covering. As for now, the markets are all about money flow with fundamentals taking a back seat. There were rumors that the Chinese were looking for U.S. grain offers, but again, there is going need to be quantifiable evidence before any bid emerges. President Trump tweeted conflicting thoughts by saying trade negations are going well, but there is no end in sight. Which means a summit should probably not be expected until at least early April. The markets are now believed to be short enough where choppy sideways trade is expected until more fundamental news emerges.
---
May corn opened the week at $3.66 and closed at $3.73. A 7-cent increase. Managed money estimates revealed a massive amount of corn selling adding an additional 75,000 contracts to their position. This left corn at a new short of around 200,000 contracts which pushed the net speculative short very close or is a new record short position. The May contract posted a fresh low on Monday. China purchased U.S. pork amid the African swine fever outbreak, this aided in keeping U.S. corn supported despite poor exports numbers. Pork exports will continue to be monitored moving forward to lend support to the U.S. corn market.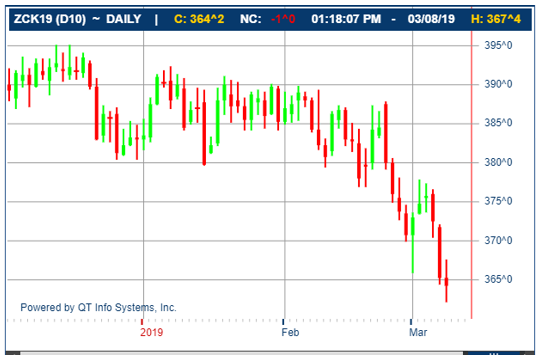 ---
May soybeans opened the week at $8.98 and closed at $9.09. A 11-cent increase. Beans continue to wait for trade news and grind lower as they do so. As the South American harvest progresses U.S. soybeans window of opportunity to improve may be closing. Soybeans are looking to stay choppy until fresh trade news emerges.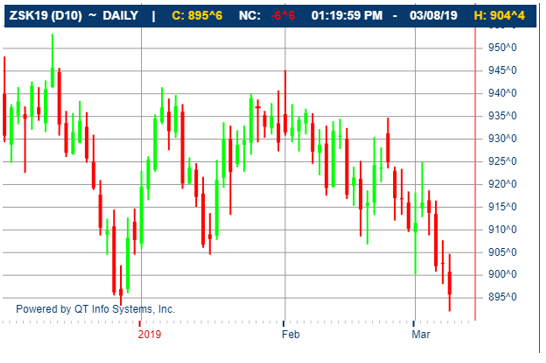 ---
May wheat opened the week at $4.39 and closed at $4.62. A 23-cent increase. Chicago wheat has fallen over $1 in the last 30 days. Falling world wheat values paired with the strength of the U.S. dollar has not allowed U.S. wheat to gain a larger share of world export volumes. Wheat saw a 25-cent pop Tuesday as markets were in deeply oversold territory. Short covering boosted wheat on Friday as weather damage concerns start to rise.