Weekly Market Wrap-Up
Grain Market Commentary
Friday, March 8, 2019
by Jay Smith, Grain Associate, The Andersons
The week was focused on hopes for a comprehensive trade deal being formulated for later in the month, the ongoing South American growing season, and the potential slow start to the upcoming U.S. growing season. As for falling ag market prices, we are seeing the largest combined short from the managed money crowd in quite some time. Last week's selling spree and the following short positions caused Tuesday's COT report to be closely watched. Positions were short, but not as short as many anticipated. Early in the week short covering was evident but volume waned dramatically as the markets continue to wait for a true trade resolution. President Trump tweeted for China to remove agricultural tariffs against the U.S. amidst a string of positive news, but there has not been a response from China regarding the demand. As for the U.S. weather pattern, an already debated acreage mix combined with a potential delayed planting start due to wet conditions will leave people with more questions than answers soon. Warmer, drier weather is preferred for those wanting to plant more corn and for those in the western part of the corn belt, these patterns will be closely monitored as we approach the end of March and the first half of April. There was also a WASDE report released Friday, but it did not cause much excitement, as anticipated.
---
May corn opened the week at $3.73 and closed at $3.64. A 9-cent decrease. As the week progressed funds continued to pile on their short positions heading into the U.S. growing season which is rare, especially on the corn fund. If the cold and wet weather persists into April and planted acreage slips a bit, then corn may be sitting undervalued. U.S. corn demand base was lowered slightly in the WASDE report.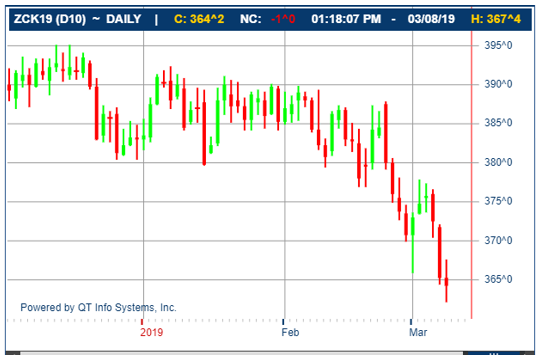 ---
May soybeans opened the week at $9.15 and closed at $8.95. A 20-cent decrease. Lately soybeans have been the most competitive grain, seemingly for inexplicable reasons. They were holding firm to the $9 mark until trading began on Friday morning when they fell below that mark and could not rebound before the market closed. Soybeans fell within target of average estimates for the WASDE report.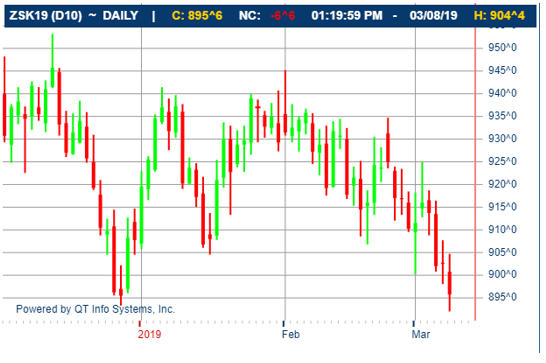 ---
May wheat opened the week at $4.57 and closed at $4.39. An 18-cent decrease. The wheat short positioning continued. U.S. wheat is competitive in the world export markets but is not drawing interest now. Wheat continues its downfall as trader's pile on their short position. The WASDE report called for increased supplies, decreased exports, decreased use domestically, and higher ending stocks.