Weekly Market Wrap-Up
Grain Market Commentary
Friday, May 10, 2019
by Jay Smith, Grain Associate, The Andersons
Markets started the week sharply lower due to a single Trump tweet, creating anxiety for a resolution in a matter of seconds. President Trump has said he will be raising tariffs 15% to 25% on 200 billion dollars' worth of Chinese goods. President Trump is attempting to make a point that he is tired of how long negotiations are taking and he does not like the Chinese allegedly backpedaling on some of their original promises. Regardless of motivations, this has now escalated tensions between the countries in a major way to a new high. The Chinese Vice Premier and other officials made their regularly scheduled trip to D.C., despite rumors that they were going to cancel. We have now seemed to enter an all or nothing situation as of today, and are still awaiting any additional tariffs to be applied to $325 billion in Chinese imports. Some speculate that the Chinese may walk away from the negotiation table entirely until after the 2020 presidential election if a deal is not struck by this weekend. The trade war is very fluid now, this upcoming week has proven itself important between tariffs hikes and meetings, expect volatility to continue.
Taking a back seat to the trade developments but still fundamentally important is the U.S. weather forecast and the May WASDE report. Weather looks to remain wet and cool for a majority of the belt this week, likely continuing the lagging of planting progress. The last half of May forecast is now being heavily focused on, as forecasts turn drier and warmer for this time it should open a critical 6-10-day planting window at the end of the month. The extended 16-30-day forecast is calling for wet weather to return which adds even more importance to getting as much corn planted as possible during the dry window. As for the May WASDE report, we saw bearish old crop revisions and the first look at the 19/20 S+D tables. The figures given by the USDA were raised, especially for corn and soybeans, all of which were higher than the average trade estimates.
---
July corn opened the week at $3.59 and closed at $3.52. A 7-cent decrease. Corn realized new contract lows on new tariff increases by President Trump. Corn rebounded relatively quickly as corn is not as heavily influenced by Chinese trade as soybeans. The USDA planting progress report pegged corn planting at 23% compared to the five-year average of 46%. The 23% was on the lower end of trade expectations.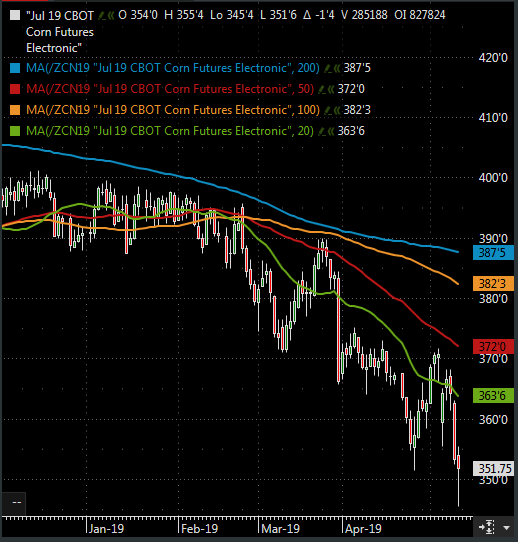 ---
July soybeans opened at $8.28 and closed at $8.09. A 19-cent decrease. Soybeans realized new contract lows due to the tariff increase, these levels are the lowest in over 7 months. China has about 7.6 MMT of soybeans on the books that could be cancelled at any time if the government is prompted. This would be devastating to the market as a cancellation would increase the U.S. carryout ~30%. Planting progress had soybeans at 6% compared to the five-year average of 14%. 6% was also on the lower end of trade expectations, but as we know soybeans can be planted later than corn.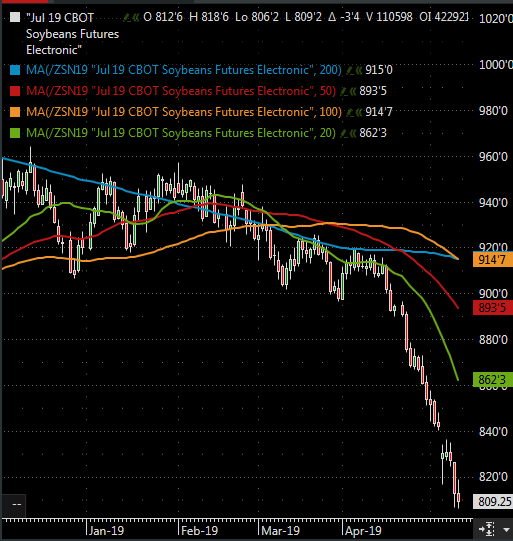 ---
July wheat opened the week at $4.30 and closed at $4.25. A 5-cent decrease. Early week wheat felt the downward pressures of the corn and bean market but quickly rebounded to near unchanged levels. The U.S. remains competitive against Russia on paper. U.S. crop condition levels remained unchanged at 64% good to excellent. Low export, low feed, and good production look to keep stocks high.