Weekly Market Wrap-Up
Grain Market Commentary
Friday, November 1, 2019
by Paul Matthews, Account Representative, The Andersons
This week kicked off with a mixed trade with the market keeping a close eye on both U.S. and South American weather patterns. Some untimely rains in both Argentina and Brazil growing areas were viewed as negative and may be helping give beans a lift after Friday's sharp downward close. The Commitment of Traders report Friday, as no surprise, reflected aggressive fund buying in wheat which was slightly more than the trade was expecting. Crop progress reported Monday night showed corn harvested at 41%, which is up 11 points from last week but still below the five-year average of 61%. Soybeans harvested were pegged at 62%, up from 46% last week also below the five-year average of 78%.
Tuesday saw the trade again waiting on the sidelines with little fresh news and tempered by Monday's crop ratings and harvest progress. Weather models show that more harvest delay is to be expected this week, but long term forecasts look like a better chance for field work to continue.
Wednesday again felt the effects of thin trading as it is becoming more obvious that the trade is waiting out the balance of October for next week's USDA report which will update production in addition to supply and demand tables. Other independent estimates will also be looked for and may have some potential bearing on a market that is awaiting any news on this year's crop.
Thursday kept commodity prices within their well-established ranges especially with some negative news out of China as they appear to be doubting a long-term trade deal with the current administration even before a phase 1 deal can be locked in. Export sales data showed strong net sales up from the previous week with one notable destination being China. Towards the close Thursday, commodity prices did recover and close well off the session highs ahead of month-end.
Friday had more mixed trade but finished strong for the week as markets will try and guess how the next week of weather conditions will impact harvest progress which will be reported Monday night. Informa released its own estimate of yields with corn at 168.6 bpa and soybeans at 47 bpa. This is ahead of next week's USDA report, and these estimates are only marginally higher than last month's report.
---
December corn opened the week at $3.86 and closed at $3.8925 a 3-cent increase for the week.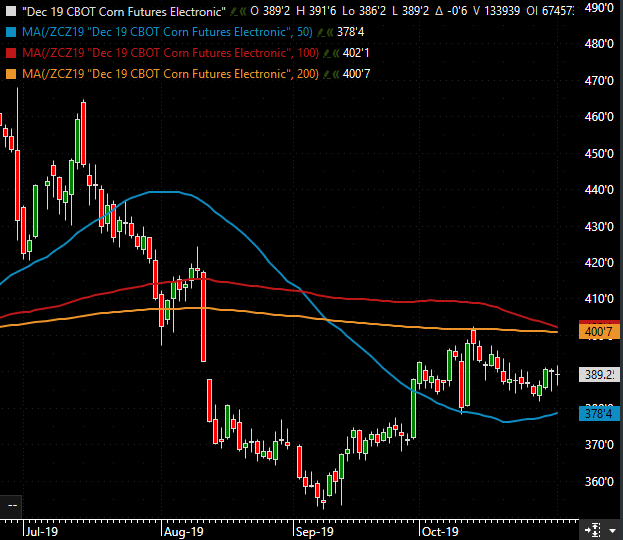 ---
January soybeans opened the week at $9.3525 and closed at $9.3675, a 1-cent increase.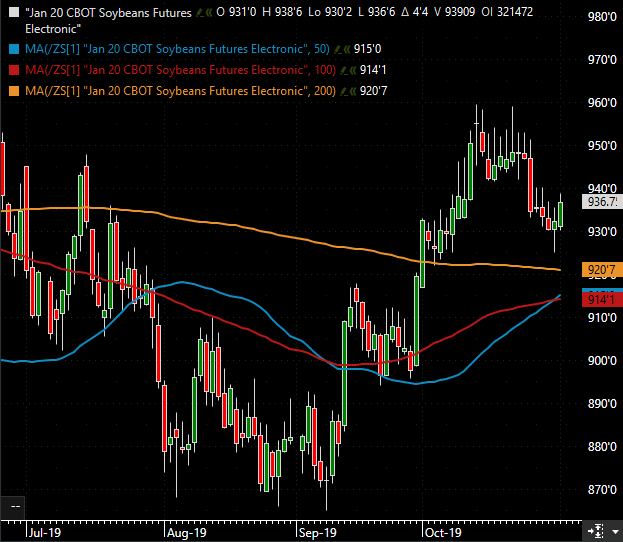 ---
December wheat opened the week at $5.18 and closed at $5.16, a 2-cent decrease for the week.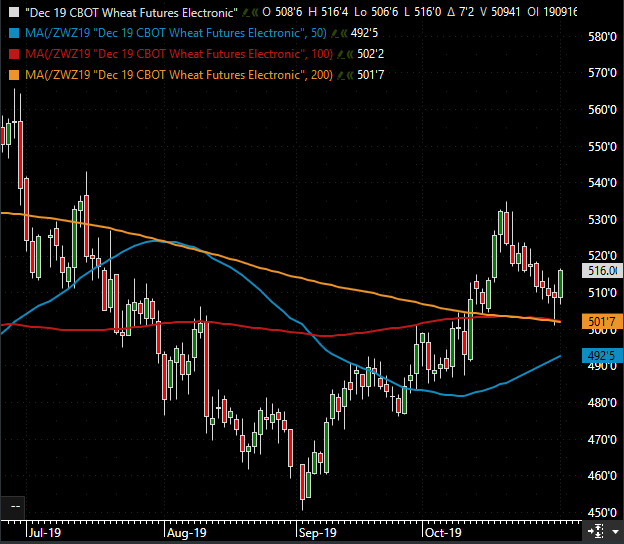 ---
Stay tuned to andersonsgrain.com for additional commodity market information.