Weekly Market Wrap-Up
Grain Market Commentary
Friday, October 11, 2019
by Paul Matthews, Account Representative, The Andersons
Monday kicked off this week with a mixed trade ahead of several high-level events taking place which include Chinese trade talks, a USDA supply and demand update, and some uncertainty with harvest weather all weighing heavily on price action. The trade rhetoric over the weekend appeared to take on a negative tone as the Chinese officials stating that they will not enter this week's trade talks with any concessions in mind, while President Trump has stated that the U.S. will not enter any deal that is not comprehensive and complete. The Chinese bean purchases last week did help support prices short-term.
Tuesday continued with a mixed trade but finished sharply higher due to trade uncertainty with an approaching winter storm event bearing down on an already challenged crop and a somewhat lagging harvest progress. Overall corn harvested sits at 15% against a 27% five-year average. Soybeans overall were reported at 14% harvested versus a 34% five-year average. Values for corn finished Tuesday at 2-month highs, and soybeans finished at nearly 3-month highs.
Wednesday began with a continued upward trend for soybeans as we did get some positive trade news headlines. The Chinese have stated that they are open to a partial deal. The weather concerns for the Northwest belt continue and any change with that weather model will likely get a reaction from the market.
The USDA report Thursday gave updated yield data on corn which was reported at 168.4 bpa, up 0.2 bpa from the September report. This kept U.S. corn ending stocks at a robust 1.929 billion bushels which was at the very high end of trade estimates. Soybean yields on the other hand were adjusted down to 46.9 bpa – down 1 bpa from September. This yield was on the low end of trade expectations and brought U.S. soybean ending stocks below 500 million bushels.
Friday gave the trade an opportunity to digest the report numbers from Thursday, and prices were able to rebound going into the weekend. The outside stock market in addition to commodity prices surged in the morning and throughout midday with optimism ahead of U.S./China trade talks. Trade talks were quoted as "productive" and it is said that a partial deal agreement may be reached which is aimed to lay the groundwork for a future deal that could be signed later this year.
December corn opened the week at $3.875 and closed at $3.9775 a 10-cent increase.
Corn rating this week reported at 56% good to excellent, down 1 from last week.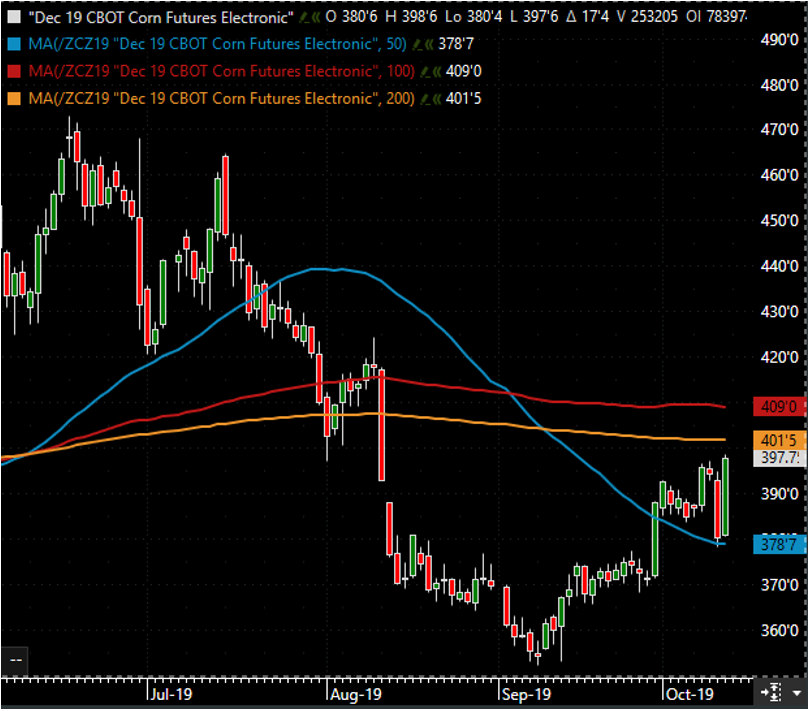 November soybeans opened the week at $9.165 and closed at $9.36, a 19-cent increase.
Soybean ratings this week are down 2 points, reported at 53% good to excellent.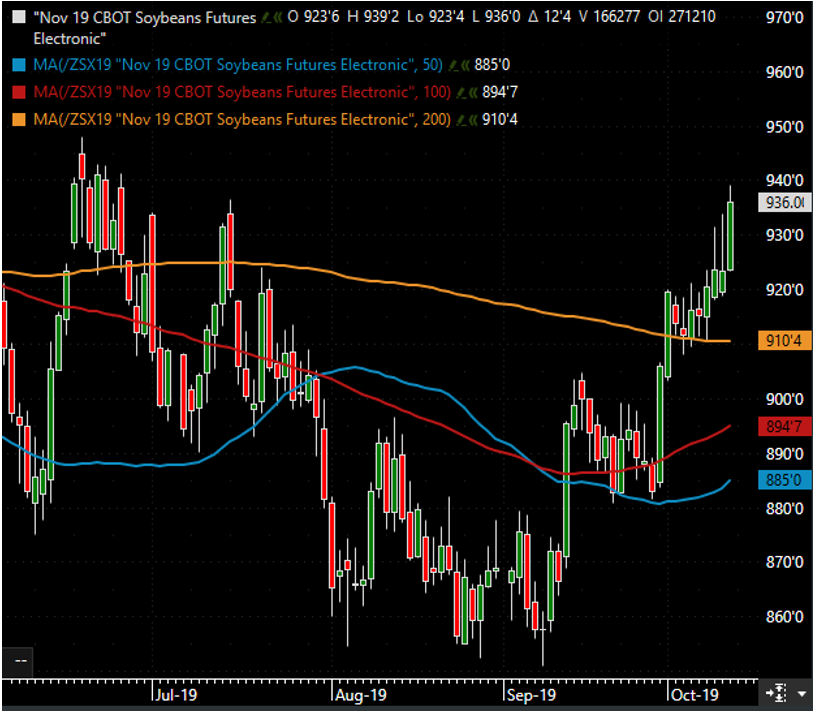 December wheat opened the week at $4.92 and closed at $5.08, a 16-cent increase.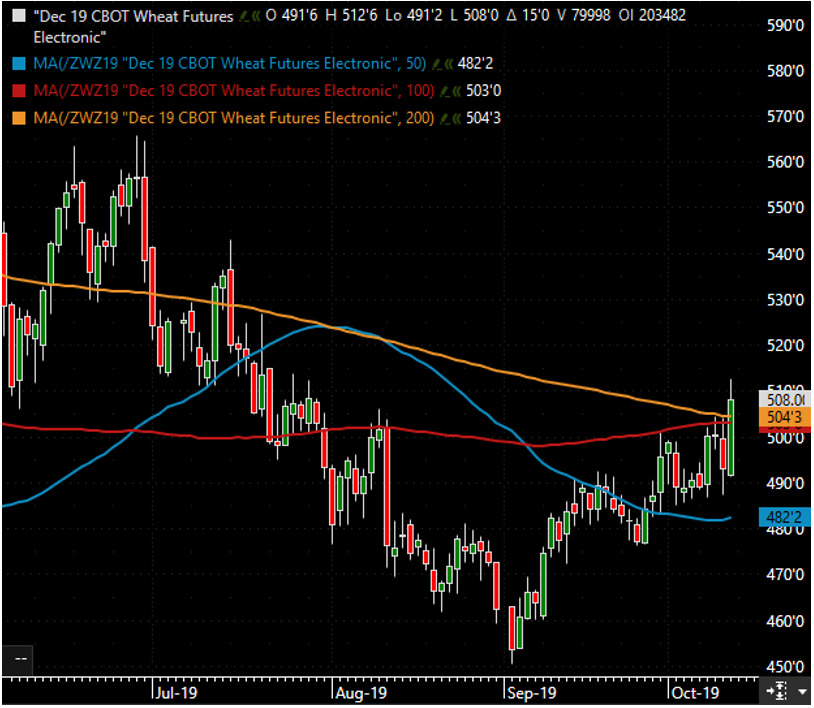 Stay tuned to andersonsgrain.com for additional commodity market information.