Weekly Market Wrap-Up
Grain Market Commentary
Friday, April 3, 2020
by Paul Matthews, Associate Merchant, The Andersons
This week began with overnight markets for grains showing follow-thru from last week's strong finish, especially in wheat and soybeans. Wheat sales are forecasted to pick up which is lending support for the time being as supply globally is under pressure. Corn on the other hand continues last week's choppy, two-sided trade as the energy sector recommences its oppressive barrage ahead of critical planting weather and data.
Export inspections Monday reported corn up 400 thousand metric tons, soybeans down 170 thousand metric tons, and wheat up 9 thousand metric tons from last week's figures.
Tuesday began with a somewhat negative tone heading into both month-end and quarter-end with the trade focused on March stocks and planting intentions. Given this data is as of March 1, the trade is still eager to discover any revelations that the USDA offers, especially data that can be traded long-term as opposed to shrugged off and ignored.
The USDA report released at noon Tuesday did not go without its surprises with an enormous corn acreage estimate of 97 million acres – an increase of 8% from 2019 and surpassing the highest estimates offered. Soybean acreage estimates were more modest at 83.5 million acres which fall on the lower end of estimates, while wheat predictions also landed on the lower end of estimates at 44.5 million acres, providing some support to values. Stocks on hand put corn down 8%, soybeans down 17%, and overall wheat stocks down 11%. On the horizon will be the April report that will update supply and demand tables which includes adjustments to feed and more critically, ethanol usage.
Wednesday saw the trade acting on data from Tuesday's USDA report in addition to focus on negativity surrounding COVID-19 concerns here in the U.S. This trend continued throughout the day trade and led to a cascade of selling across both the commodity sector and outside markets alike.
Thursday's price action gave corn a little support given some gains in crude oil with hopes of an end to Saudi-Russia price dispute. This correlation will be a critical indicator with regards to the direction corn my go moving forward.
Export sales released Thursday pegged wheat net sales of 72 thousand metric tons, which is a marketing year low, down 90% from the previous week. Corn net sales were down 41%, and soybeans up 6% from the previous week.
Friday's modest strength in corn looks to be attributed to more gains for crude oil, and some overseas wheat production concerns particularly in Russia. The gains for oil are supported nearby based on comments from The President looking to mediate a truce amongst OPEC members Saudi Arabia and Russia.
---
May corn futures opened the week at $3.43 and closed at $3.3075, a 13-cent decrease for the week.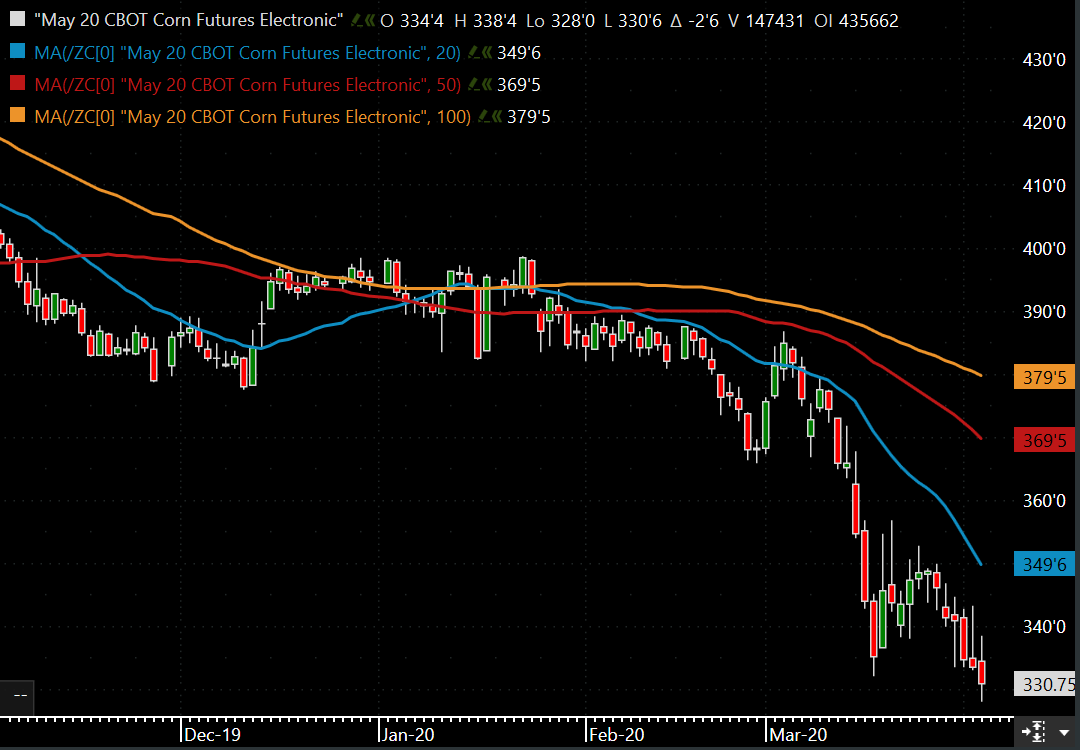 ---
May soybean futures opened at $8.80 and closed at $8.5425, a 26-cent decrease for the week.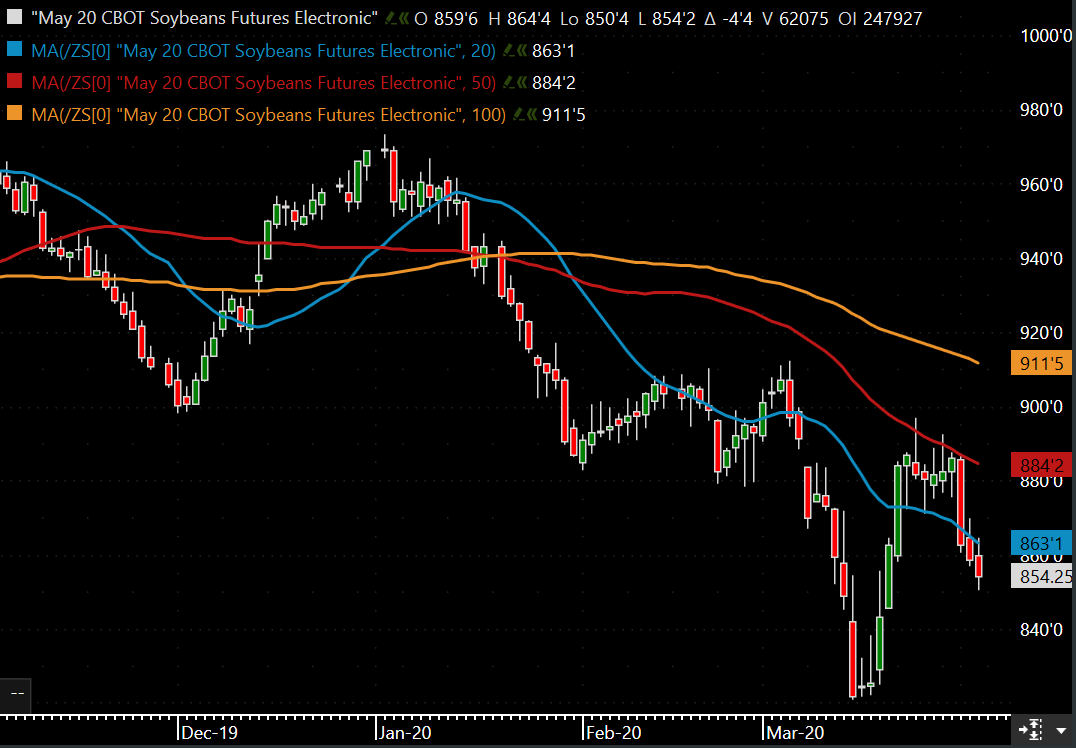 ---
May wheat futures opened at $5.7225 and closed at $5.4925, a 23-cent decrease for the week.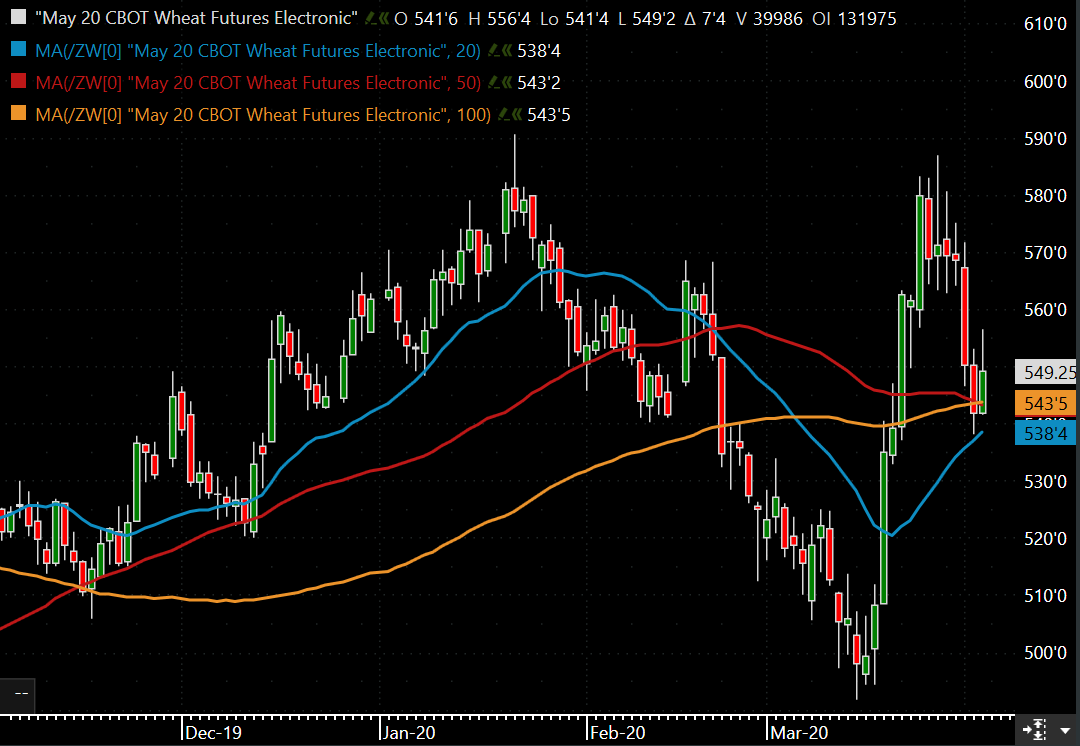 ---
Stay tuned to andersonsgrain.com for additional commodity market information.