Weekly Market Wrap-Up
Grain Market Commentary
Friday, February 21, 2020
by Paul Matthews, Associate Merchant, The Andersons
Markets opened after the long weekend Monday night with a firmer tone lead by wheat. News that the Australian government made more cuts to its domestic wheat crop in another drought-stricken area. This gave corn a jolt and helped support a modest rally. Soybeans reluctantly followed suit albeit very cautiously and trading on either side of unchanged.
Wednesday's trade started very differently from Tuesday with lighter volume with wheat values slipping off their close to three-week highs. Soybean values dipped for the third session with beneficial rains in South America and continued uncertainty with Chinese trade.
Export inspections which were reported Tuesday, had corn up 6 thousand metric tons, soybeans up 350 thousand metric tons, and wheat down 65 thousand metric tons when compared to last week's figures. Corn inspections are still only a little more than half of the volume reported this time last year. Soybean values strengthened on the close, while corn and wheat recouped a portion of the day's earlier losses.
Thursday's trade began with more range-bound action for corn, while beans are starting to show signs of a distinctly sideways, choppy trade. Wheat look to be attempting to sustain its leg up from Tuesday for the time being.
A distinct headwind that commodities and more specifically soybeans face is the US$ value against the Brazilian real. The weakening real gives the Brazilian farmer an all-time high payment for their soybeans and with a narrowing window of opportunity to get U.S. soybeans sold to China, puts even more pressure on an already turbulent global environment.
Export sales Friday pegged wheat down 46%, corn up 29%, and soybeans down 23% from last week. Ag Outlook Forum wrapped up Friday and the USDA projected 2020 area planted at 45M acres for wheat, 94M acres for corn, and 85M acres for soybeans. Modest carry-out numbers projected for soybeans had prices friendly early on, however the rally faded as the trade looks to sort out whether the projected export figures will hold true.
---
March corn opened the week at $3.785 and closed at $3.77 a 1-cent decrease for the week.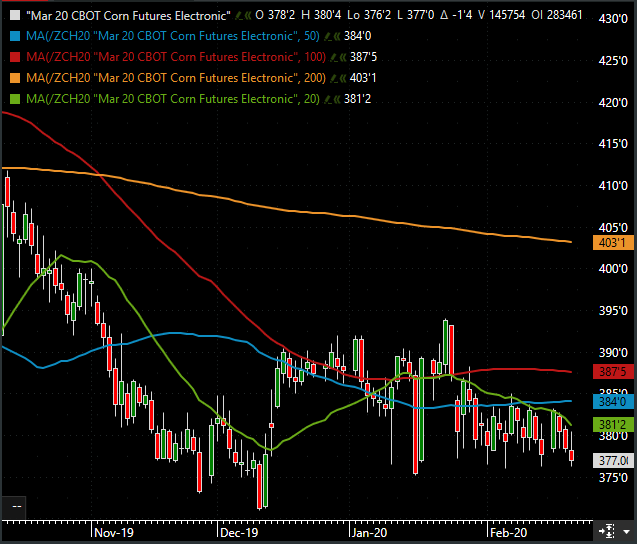 ---
March soybeans opened the week at $8.9475 and closed at $8.905, a 4-cent decrease for the week.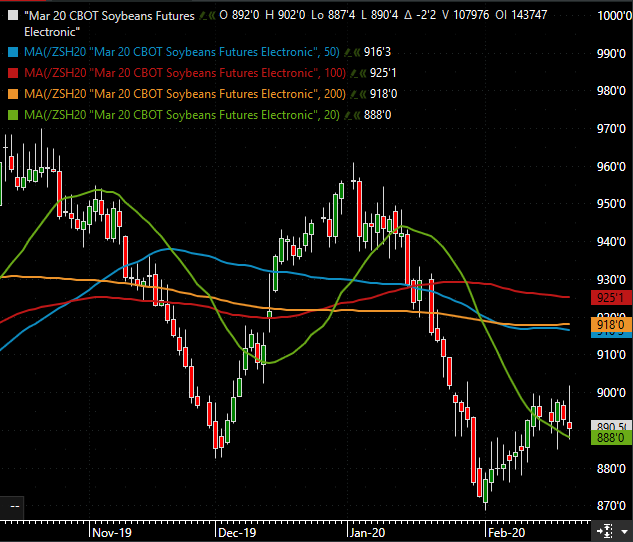 ---
March wheat opened the week at $5.4925 and closed at $5.51, a 2-cent increase for the week.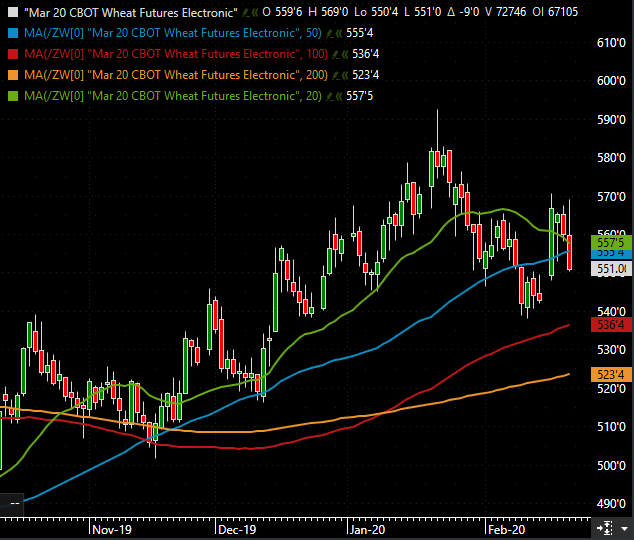 ---
Stay tuned to andersonsgrain.com for additional commodity market information.