Weekly Market Wrap-Up
Grain Market Commentary
Friday, January 10, 2020
by Paul Matthews, Associate Merchant, The Andersons
Monday kicked off with a weaker tone with some of the trade exiting the commodity sector in favor of equities after geopolitical tensions arising last week. The trade is also positioning itself ahead of Friday's report from the USDA that will update final production estimates and December 1st stocks data.
Export inspections Monday were robust with corn up 50 thousand metric tons, soybeans up 280 thousand metric tons, and wheat up 80 thousand metric tons from last week.
Tuesday trade had a more consolidated feel as prices lean away from last week's highs. The Commitment of Traders report showed managed money only making small changes to their positions, and this trend of "wait and see" is anticipated moving into Friday's USDA report.
Wednesday's price action began with a lower open based on more geopolitical tensions but recovered moving into the morning hours as fears of escalations between the U.S. and Iran were tempered and the market was able to regain some stability.
Thursday price action began with a stronger trade index rebalancing and trade consolidation had commodities moving higher. Soybean values stubbornly resisted breaking out of recent highs, likely due to the looming USDA report. Export sales data for both corn and wheat came in at a market year low, down 70% from the previous week. Soybeans on the other hand while being up 8% from the previous week, were down over the past four-week average.
Friday's much anticipated USDA report was much quieter than expected, and commodity values stayed firm into the close. Data reported corn production of 13.7 billion bushels, and a yield of 168.0 bushels per acre. The area harvested for corn was estimated at 81.5 million acres, which was up less than 1% from the revised 2018 estimates. Soybean production totaled 3.56 billion bushels, and the average yield was estimated at 47.4 bushels per acre. Harvested area for soybeans was reported at 75.5 million acres. Winter wheat seedings for 2020 harvest were reported at 31.29 million acres, which was on the high end of the range of estimates.
---
March corn opened the week at $3.8625 and closed at $3.8575 a 1/2-cent decrease for the week.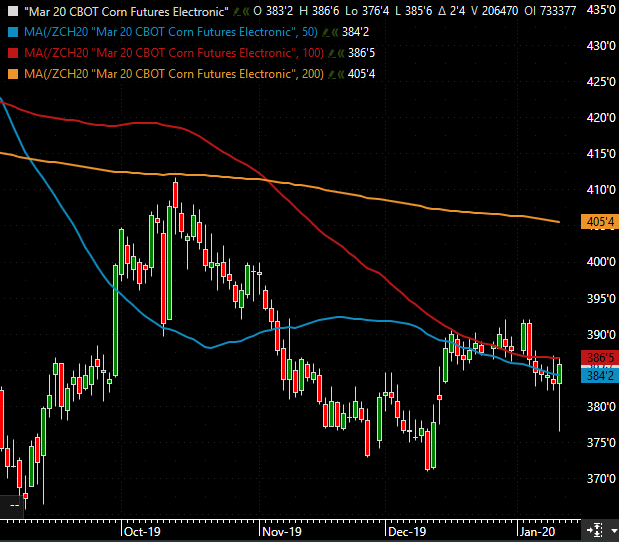 ---
March soybeans opened the week at $9.40 and closed at $9.46, a 6-cent increase for the week.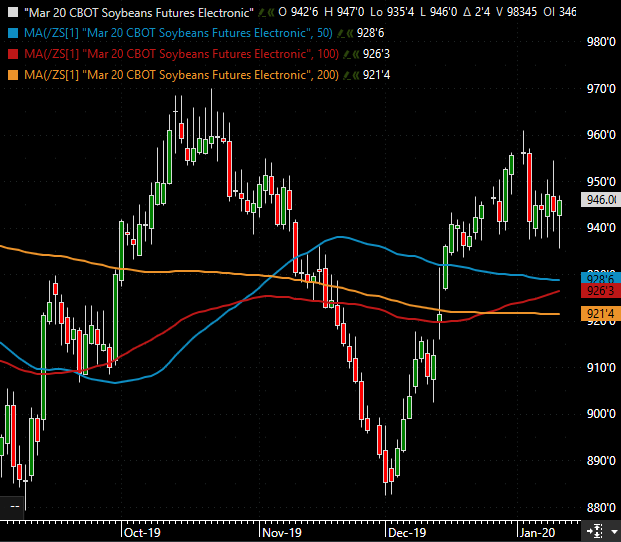 ---
March wheat opened the week at $5.525 and closed at $5.645, a 12-cent increase for the week.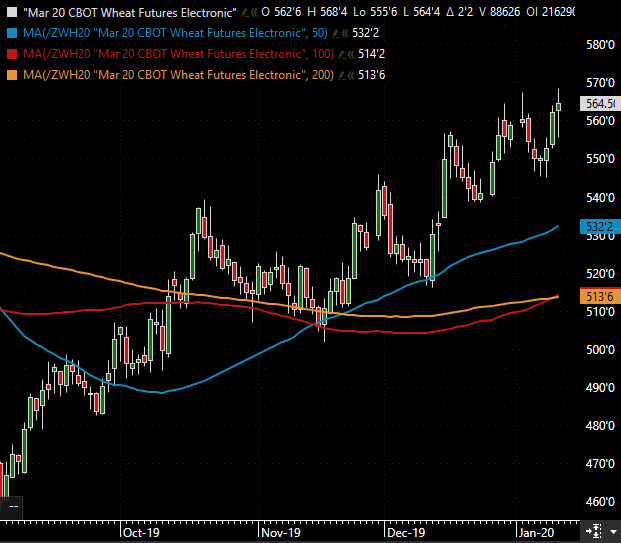 ---
Stay tuned to andersonsgrain.com for additional commodity market information.