Weekly Market Wrap-Up
Grain Market Commentary
Friday, July 31, 2020
by Jordan Morris, Senior Originations Merchant, The Andersons
Monday started the week off in relatively good shape, and as it turns out, was the high for the week in corn, beans and wheat. The market continued to see positive news regarding export business, but the fast-approaching harvest and weather forecasts are putting a stop to extending rallies.
After the close on Monday, crop ratings came out. Corn was 72% good to excellent, up 3% on the week. 82% is silking and 22% in the dough stage. Beans are 72% good to excellent, also up 3% this week. 76% are blooming and 43% are setting pods.
All the good news has been coming in the form of export sales. This week alone had sales announcements on Monday, Thursday and Friday. A mammoth corn sale to China was announced on Thursday, totaling 76 mil bushels. All be shipped from the 2020/21 crop. Other small corn sales have gone to Mexico and a couple unknown destinations. Beans continue to see sales to China, amongst others, and as well other soy complex products like meal and cake.
Export sales business for the week ending 7/23 were announced yesterday morning. Old crop corn struggled with a net reduction in sales. Colombia, Japan, and Taiwan were net buyers, but Mexico and Canada cancelled purchases. New crop corn shined with a 638k metric tons of confirmed sales. So far 8.3 mil metric tons on 2020/21 corn has been sold, that is 115% higher than last year- China owns 3.8 mil metric tons. 257k metric tons of old crop beans were sold, and 3.34 mil metric tons of new crop beans. Of that 3.34 mil new crop sales, most was already known about via daily flash sales announcements to China last week, so not much of a surprise.
The US weather forecast is favorable in the near term. The 6 to 10 day outlook for the Midwest has rains falling across the region. Friday and through the weekend. Temps are average. The 11 to 16 day forecast for the Midwest shows below average rainfall and below average temp. The European models is indicating above average temps and scattered rain.
Estimated fund positions as of Friday morning: Short 6,000 SRM wheat, short 161,000 corn, and long 78,000 soybeans.
Closing futures bids for the week: Sept corn- 3.16. Dec corn- 3.27. Aug beans- 8.975. Nov beans- 8.925. Sept wheat- 5.3125
---
The soybean technicals on the November chart look surprisingly strong, even with a lower week. Beans held the recent trend line as well as the 50-day moving average. A dip below these points on the chart would indicate bearishness, but so far so good.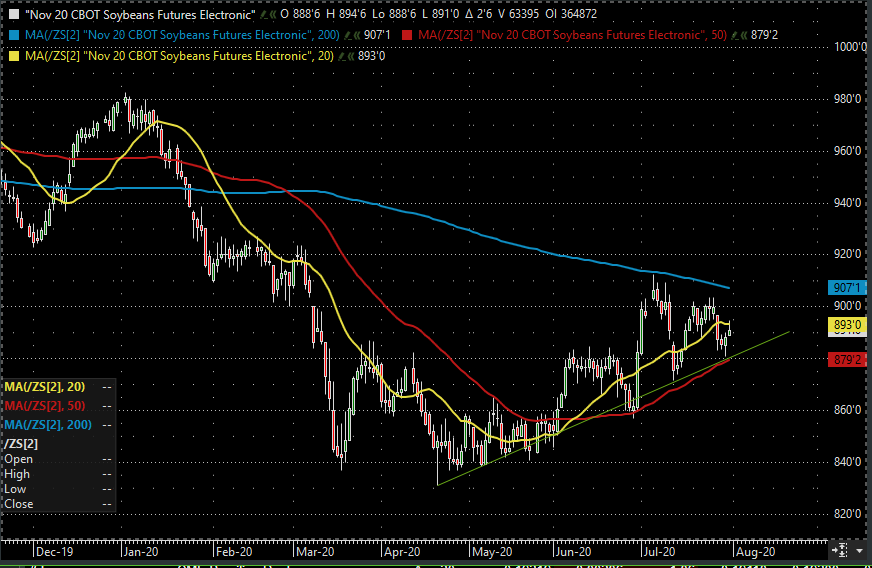 ---
Corn is in bearish territory. A near full retracement to the late June lows is almost in. The low posted on 6/26 was 3.22 cz20. CZ20 settled at 3.27 today. The 20 and 50 day moving averages are near 3.38 cz20.
---
7 day total rainfall forecast valid thru Friday Aug 7th