Weekly Market Wrap-Up
Grain Market Commentary
Friday, June 26, 2020
by Jordan Morris, Senior Originations Merchant, The Andersons
This weeks trade reversed course as the days moved closer to the ever more important acreage report that will hit the news wires next Tuesday at Noon eastern. July corn opened Sunday evening at 3.32, and Dec corn opened at 3.45- both are now trading 15-19c lower. Beans have dipped, but have not lost the percentage points that corn has. July beans opened the week at 8.75 and Nov beans opened at 8.79- they are now off 10c and 14c, respectively.
Weekly export shipments announced Monday showed an increase in corn to 51 bil bu and 9.3 mil bu of beans were shipped for the week ending June 18th. China buying US corn rumors were swriling midweek, but nothing concrete has taken place thus far. New crop corn continued to slide on Tuesday with talks of higher new crop yields being shown to the market on 6/30 in the USDA Report. China did purchase another round of US beans, this time a 132k mt slug of the 20/21 crop.
Weather models continue to favor rain in the drier Eastern Corn Belt's forecasts. The 5 day rainfall total could see 1 to 2.5 inches in parts of Indiana and Ohio. (see map below)
Ethanol production keeps notching weekly gains, marching closer to the 1 mil barrel/day mark. Last weeks production totaled 893k barrels/day. 19/20 corn export sales were light, only totalling 461k mt while new corn totaled 77k mt.
Beans sales were solid. Old crop totaled 602k mt and new crop was 560k mt. China took 49% of the overall bean total. We finished Friday with corn slightly in the red, down 0-2c, and beans recorded a 6-7 lower trade. Closes for the week show July corn at 3.17, December corn at 3.2525, July beans 8.65 and November beans settled at 8.6125.
---
December corn made a new low on a dive Thursday morning, trading to 3.24. Friday's business then recorded a 3.22 futures price midday, but finished at 3.2525.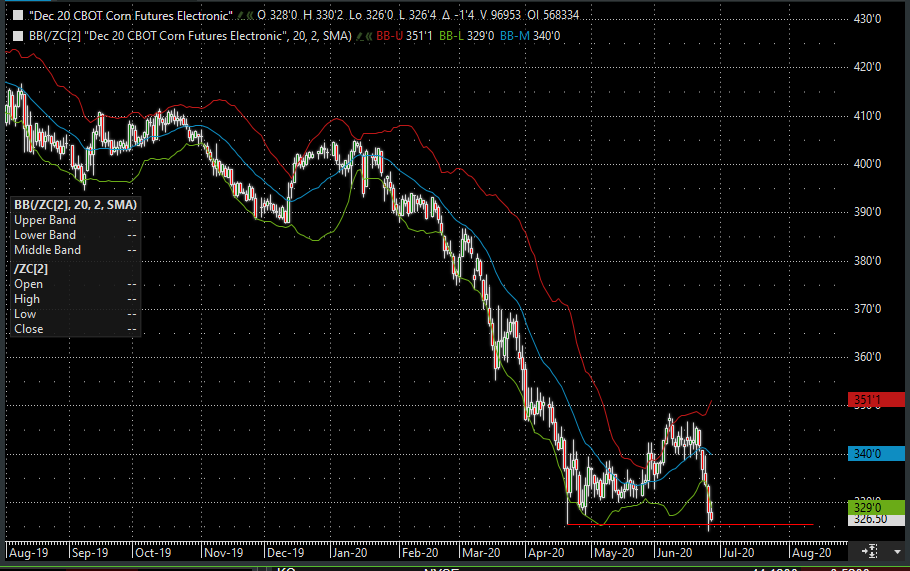 ---
Beans are rolling over, but still well off the late April/early May lows. Beans should find support, assuming no big surprises in the USDA Report, at the lower bollinger band. (green line)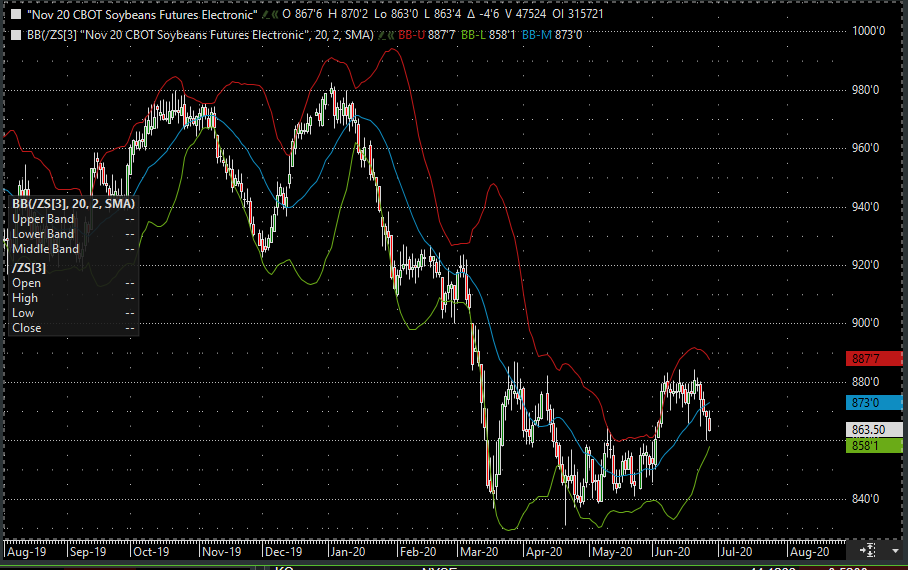 ---