Weekly Market Wrap-Up
Grain Market Commentary
Friday, May 22, 2020
by Harrison Reiff, Associate Merchant, The Andersons
The trade kicked off the week with corn rising 2 cents throughout Monday and soybeans up 4.5 cents as the DOW sharply rose 1000 points. All eyes are on the Dakotas right now as planting progress is behind average and we near the final plant date next week for a large portion of the region.
Export inspections reflected Corn showing stronger exports year over year. Corn exports came in at 1.15 mmt for the week vs 0.84 mmt last year. Soybean exports were pegged lower year over year showing 0.352 mmt this week vs 0.498 mmt last year. US wheat export inspections were below normal with 0.44 mmt this week vs 0.84 mmt last year for the same week.
Monday's crop progress report had corn planting at 80% planted this week vs 67% planted last week and ahead of the 5 Year Average of 71%. North Dakota is 20% planted, well behind the 60% planted 5-year average with 2.5 million acres of corn left to plant, and South Dakota is 67% planted with 2 million acres of corn yet to plant. Soybeans across the US came in at 58% planted vs 38% last week and a 38% 5-year average. Wheat condition is reflecting a 16% Poor-Very poor condition vs 8% last year.
Tuesday corn started off strong being up as much as 4.75 cents but started to fall back once the CFAP program estimates were released. July Corn finished the day well off the high only up ½ a cent to finish Tuesday's trade. Beans followed a similar trade and finished the day down 3.5 cents from the previous day.
Wednesday's trade showed corn and beans taking a back seat to Wheat with corn down 1.75 cents and beans up 4.75 as answers were starting to be shared regarding the CFAP payment program. July Wheat rallied 14.25 cents on the day on news of Russia cutting wheat estimate by 5.3 mmt of wheat. This sparked panic among some of the shorts helping the wheat futures.
Thursday corn was down 1.25 cents. Beans traded down 11.75 cents based off of harsher rhetoric towards China regarding COVID-19.
Friday corn had little movement ahead of Memorial Day weekend. July corn was up 0.25 cents and July beans were down 1.75 cents to finish the week out.
---
July corn futures opened the week at $3.20, and closed the week at 3.18, down 2 cents.
---
July Soybeans opened the week at 8.405 and closed the week at 8.3325, falling 7.25 cents on the week.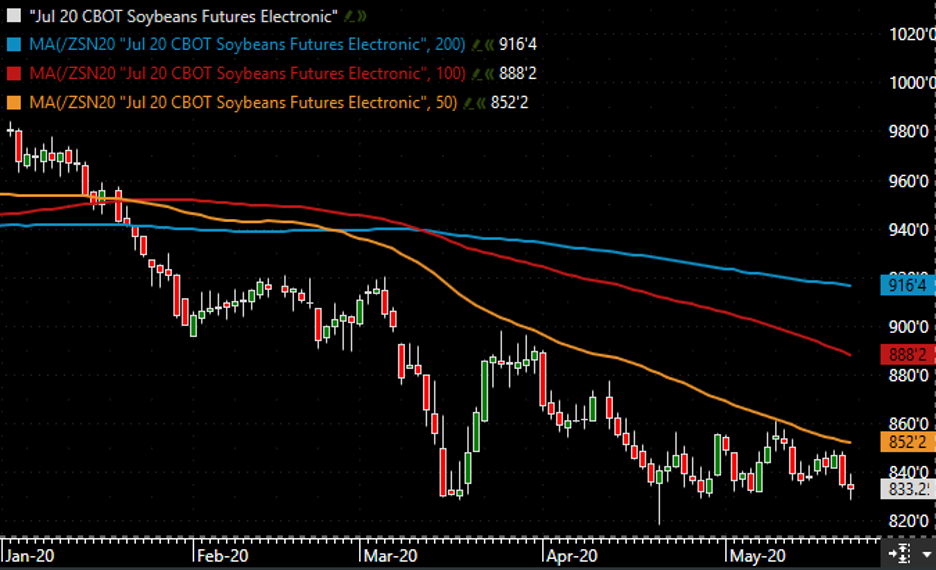 ---
July wheat opened the week at 5.015 and closed the week at 5.0875, up 7.25 cents.