Weekly Market Wrap-Up
Grain Market Commentary
Friday, May 29, 2020
by Harrison Reiff, Associate Merchant, The Andersons
The trade kicked off the week on Tuesday with corn gaining 1 cent over the course of the day. July soybeans were the real story on Tuesday as the USDA showed some flash sales of beans to China pulling beans higher by 13.75 cents.
Export inspections reflected Corn showing 1.02 mmt for the week and the month year to date showed a 11.2 mmt which is 440 mbu lower year over year. Soybean export inspections came in at .333 mmt for the week which were down from .537 from the same week last year.
Tuesday's crop progress report had corn planting at 88% planted this week vs 80% planted last week and ahead of the 5 Year Average of 82%. North Dakota is 54% planted, well behind the 79% planted 5-year average. Corn crop rating came in at 70% Good-Excellent for the start of the growing year. Soybeans across the US came in at 65% planted vs 53% last week and a 55% 5-year average. Wheat condition is reflecting a 16% Poor-Very poor condition vs % last year.
Wednesday's trade showed July corn gaining 1.5 cents as the crop progress for the corn crop came in slightly lower than trade expectations. July beans showed very little action as no new headlines came in to fuel trade. July beans traded higher 1.5 cents as well to close the day.
Thursday trade started off and all eyes were on corn as short coverings took place and as reports showed Ethanol production climbing back. July corn traded as much as 10 cents higher during the day before falling back to end the day up 7 cents at the close. July soybeans traded down 1.5 cents on the day as it took a backseat to the corn movement.
Friday corn finished the day down 1.75 cents and beans were down 6.25 cents.as the market geared up for President Trump's press conference regarding Hong Kong.
---
July Corn futures opened the week at $3.1675, and closed the week at 3.2575, up 9 cents.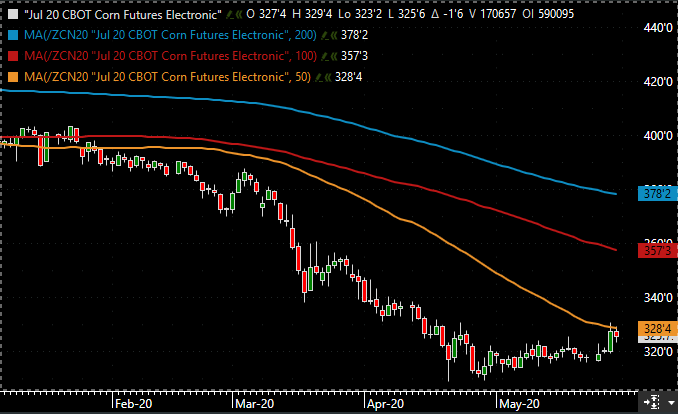 ---
July Soybeans opened the week at 8.325 and closed the week at 8.4075, gaining 8.5 cents on the week.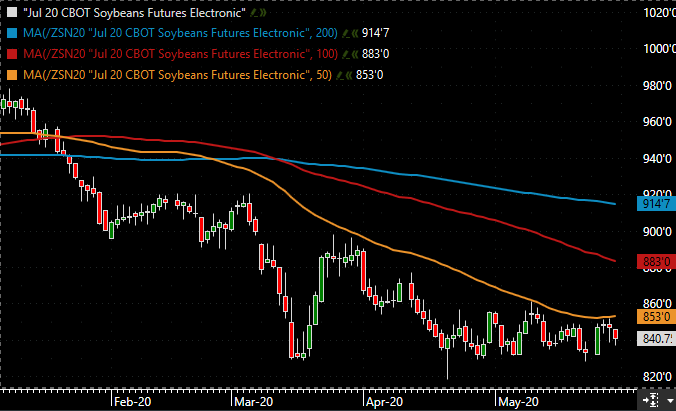 ---
July Wheat opened the week at 5.0425 and closed the week at 5.2075, up 16.5 cents.