Weekly Market Wrap-Up
Grain Market Commentary
Friday, September 11, 2020
by Jordan Morris, Senior Originations Merchant, The Andersons
The shortened trade week gave us more advances in the grain markets that continue to be met with farmer selling. The rallies have been so good lately that it's hard to argue with selling now, and if the pace keeps up, holding on for more. A market move this late in the year is certainly not typical of course, but the 48 cent December corn and $1.65 November bean rally is a blessing.
Funds positions are moving hard in the long direction. Funds moved corn into a long position recently, with one of the most recent estimates showing corn holding a long 18,000 position. Beans are very much long, showing a long near 178,000 contracts.
Today's USDA WASDE report was the highlight of the week. Too much of the farmers delight, the USDA reduced the total corn and bean crop size. Corn production dropped 2% and beans dropped around 3%. Corn yield was reduced to 178.5 bpa vs a prior 181.8. Total production now sits at 14.9 billion bushels. Ethanol usage was flat, export demand up 100 million bu. Corn carryout dropped to 2.503 bil bu or a 17% stocks/usage ratio. Bean yield dropped to 51.9 bpa vs a 53.3 prior yield. 2020 crop production is now estimated at 4.3 billion bushels. A lot of talk has centered around export demand, but we didn't see an uptick there yet. Exports remained at 2.125 mil bu. Carryout dropped to 460 mil bushels. Stocks/use is now only 10%. No big increases were shown on the bean supply/demand table, mainly small decreases. The highlight for the bean report was the yield drop of 1.4 bpa.
The corn and bean charts are depicting the rapid increase since mid August nicely. With corn finally moving into a long position, Dec 20 futures had enough strength to push through the the 200 day moving average for the first time in nearly 1 year. This is key to the long term bullishness in the corn market. The 200 day will be very strong support.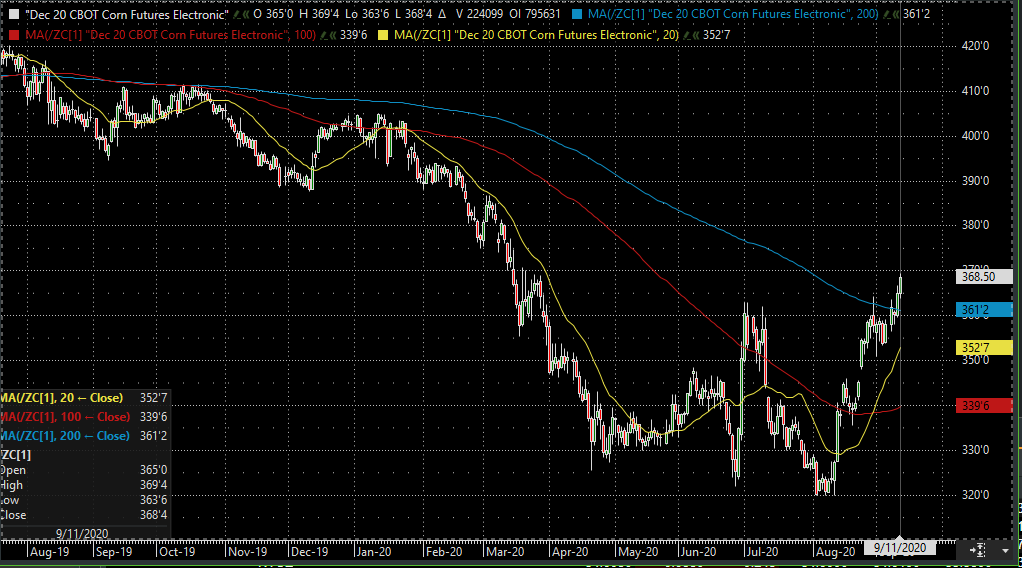 The bean chart exemplifies strength. With the funds long near 178k contracts, it doesn't surprise many to see the bean chart in no mans land. The old calendar year highs made on 1/2/20 were taken out today and a new close at 9.96 SX20 is now the 2020 high.