Weekly Market Wrap-Up
Grain Market Commentary
Friday, April 16, 2021
by Harrison Reiff, Associate Merchant, The Andersons
Trade started off this week with May corn futures opening at 577.75 and closed at 569.00. May soybeans opened the week at 1403.25 futures and close the day down 21.25 cents at 1382.00. Trade slumped as traders digested the WASDE numbers from last week, and on disappointed export inspections for corn. Soybeans traded lower after following the weakness in Palm oil on the day.
Tuesday's trade reflected corn selling off opening at 569.00 and closing up 11 cents at 580.00. The funds were credited with purchases of 20k corn contracts on Tuesday helping push the corn trade higher. The soybean trade on Tuesday showed beans opening at 1385.25 and closed the day up 4.25 cents at 1389.00.
Wednesday was a huge day for the markets with May corn futures opening at 579.75 and closing higher by 14.25 cents at 594.00 reaching new contract highs throughout the trading day as the corn rally continued. The fund was again credited with buying 18k contracts of corn on Wednesday. Soybeans opened at 1391.50 and finished the day up 19.5 cents at 1410.00 May futures. Soybeans gained on the day to try to keep pace with Corn but has been losing the SX/CZ ratio as corn tries to buy more acres from beans as we head into planting.
Trade on Thursday reflected May corn opening at 594.25 and quickly overnight traded through the 600.00 level trading as high as 601.50 before selling off after reaching this new level and closing the day down 4.25 cents.at 590.00 futures. Soybeans opened at 1410.00 and traded higher throughout the day closing the day at 1418.25.
Friday showed a 9.25 cent trading range on corn with May corn opening at 590.50, trading higher in the morning up to 594.75, and then selling off into the close finishing the day at 585.50. The Friday's May soybean trade reflected soybeans opening at 1419 futures and closing up 14.25 cents at 1433.25. Markets were helped this week by the colder US temperatures for the week. As soon as the Midwest warms up, planting progress is going to increase dramatically week over week.
---
May Corn futures opened the week at 577.75, and closed the week at 585.50, a gain of 7.75 cents.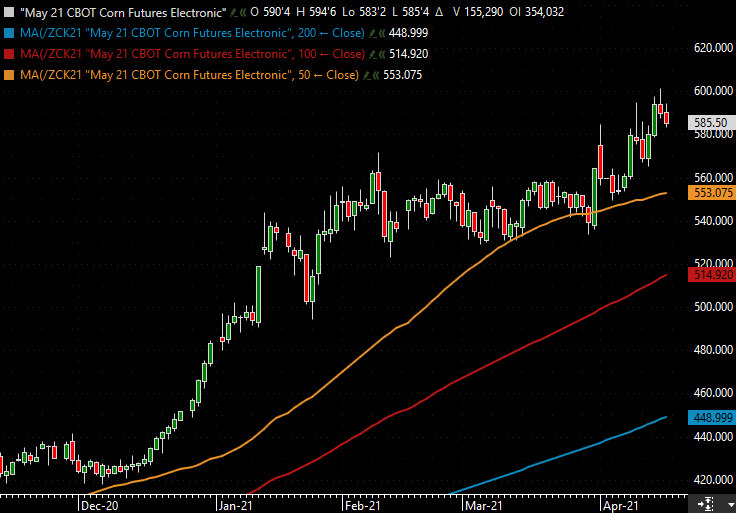 ---
May Soybeans opened the week at 1403.25 and closed the week at 1433.25, gaining 30 cents.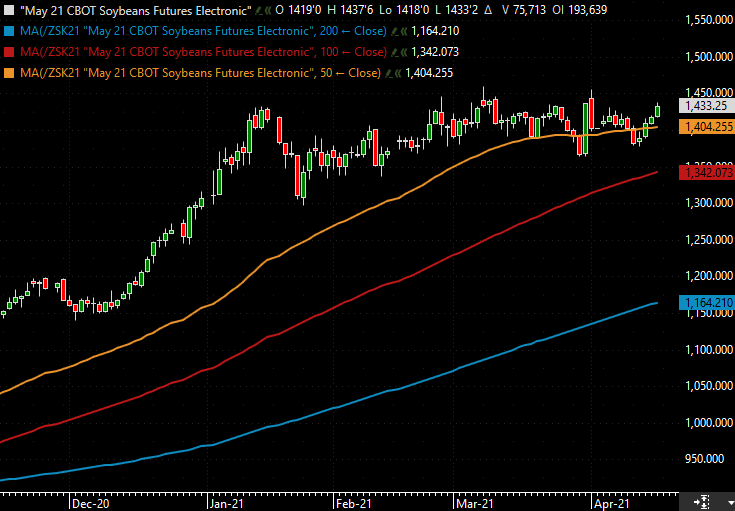 ---
May Wheat opened the week at 638.00 and closed the week at 652.00, gaining 14 cents on the week.