Weekly Market Wrap-Up
Grain Market Commentary
Friday, April 2, 2021
by Harrison Reiff, Associate Merchant, The Andersons
Trade started off this week with May corn futures opening at 551.75 and closed at 546.75. May soybeans opened the week at 1400.50 futures and close the day down 7.5 cents at 1393.00. Monday was fairly quiet with the market looking towards the Wednesday report. Rumors of a 3rd wave of COVID 19 were making the rounds helping push the markets lower along with pre-report positioning.
Tuesday's trade reflected corn selling off opening at 546.25 and closing down 7 cents at 539.25. The soybean trade on Tuesday showed corn opening at 1393.00 and closed the day down 26.25 cents ahead of the Wednesday Stocks and Acreage reports. Soybean oil traded limit lower which helped pull the soybean trade down on the day. Along with oil trading lower, the funds were credited with selling 15k contracts as well.
Wednesday was a huge day for the markets with the March 31st acreage report from the USDA. Corn opened at 538.25 and closed limit up at 564.25. Soybeans opened at 1368.75 and closed the day up the limit of 70 cents at 1436.75. The USDA report reflected corn acres at 91.1 million acres which was far away from the average trade guess of 93.2 million acres which is why corn futures show higher. The average trade guess for Soybeans acres came in at 90 million acres of beans, and the USDA reported acres at 87.6, which was 2.4 million acres lower than the trade expectation which lead to soybeans trading up the limit on Wednesday. With the acreage expectations the USDA reported, there is little to no room off of a trendline yield for either corn or soybeans.
Trade on Thursday opened with both corn and beans gapping higher to start the day off. Thursday saw a wide trading range for corn with May futures opening at 575.00 futures and trading as high as 585.99 before selling off and closing the day at 559.75 futures. Soybeans saw May soybean futures slide throughout the day on another wide range of trading. Soybeans opened at 1444.00, traded higher to 1456.25 before selling off 54.25 cents from the high and closing the week at 1402.00 futures.
---
May Corn futures opened the week at 551.75, and closed the week at 559.75, a gain of 8 cents.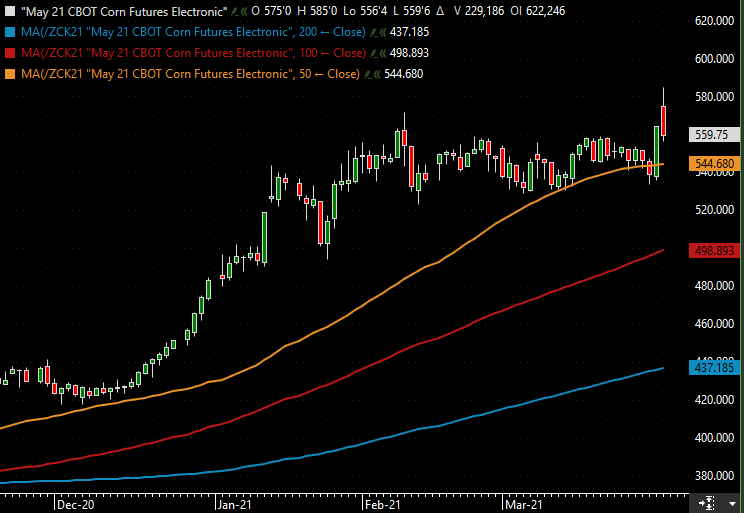 ---
May Soybeans opened the week at 1400.50 and closed the week at 1402.00, gaining 1.5 cents.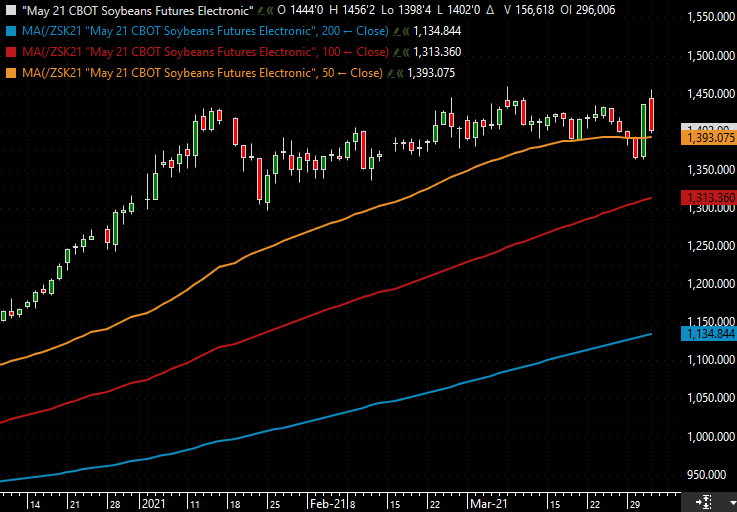 ---
May Wheat opened the week at 615.75 and closed the week at 611.00, losing 5.75 cents on the week.