Weekly Market Wrap-Up
Grain Market Commentary
Friday, April 30, 2021
by Harrison Reiff, Associate Merchant, The Andersons
Trade started off this week with May corn futures opening at 6.6100 futures and traded higher 19.5 cents to close at 6.8050 futures. The funds helped push corn higher being credited with buying 60k contracts on the day based off of the brazil Safrinha crop and dryness concerns. May soybeans opened the week on Monday at 15.4875 and closed higher 20.25 cents at 15.6900 futures. Soybeans were pulled higher by the corn trade as well as a rally in soybean oil.
Tuesday's trade reflected May corn futures opening at 6.8850, and then proceeded to have a 30-cent trading range on the day finally closing up 7 cents at 6.9550. All eyes were on the May-July corn futures spread which widened out to 43.5 cents on the day. May soybeans had a 60.75 cent trading range on the day opening at 15.7225, trading up to 16.0875, before falling down and closing lower at 15.4975.
Wednesday showed a slight pullback with corn opening at 6.9775 and finishing the day down 11.5 cents at 6.8625. The May 21 – July 21 corn spread again was the talk of the trade with the spread widening at one point to 63 cents before falling back to 41 cents in the same day session. May soybeans regained some of what they lost on Tuesday and opened at 15.4525 and closed higher 12.5 cents to close at 15.5775 futures.
Thursday had corn once again rallying with May futures opening at 6.8375 and closing the day up 18.25 cents. May soybeans on the day traded lower 6.5 cents after opening at 15.4900 to close the day at 15.4250.
To close the week out, on First notice for May futures, corn skyrocketed 37.5 cents to finish the week out at 7.4000 futures. July corn futures traded limit up to close the day. First notice day for the May corn futures showed the May-July spread widened yet again. Soybeans followed corn on Friday opening at 15.3400 and soaring higher to close at 15.7100.
---
July Corn futures opened the week at 6.3775, and closed the week at 6.7325, a gain of 35.5 cents.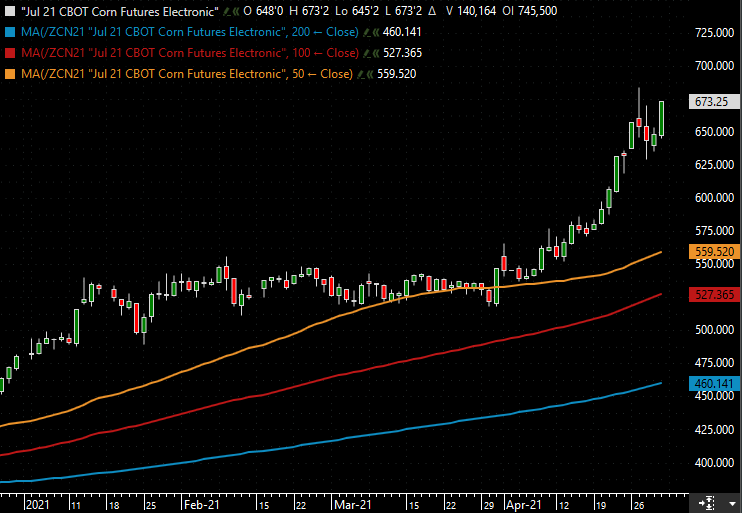 ---
July Soybeans opened the week at 15.2400 and closed the week at 15.3425, gaining 10.25 cents.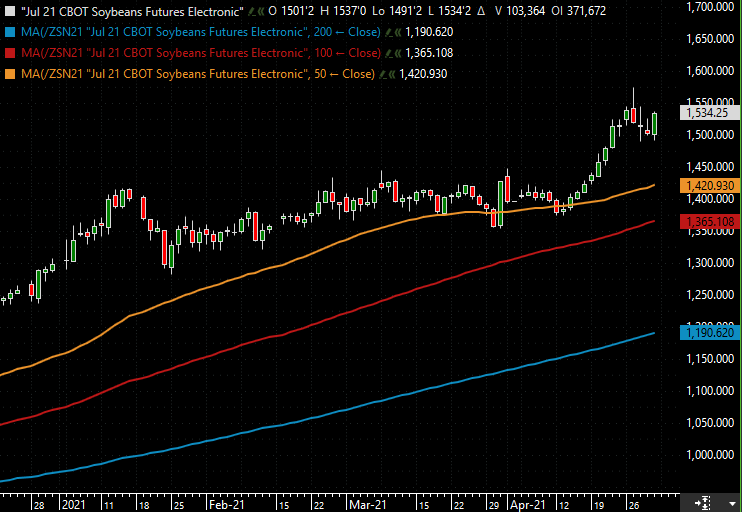 ---
July Wheat opened the week at 7.1475 and closed the week at 734.75, gaining 20 cents on the week.