Weekly Market Wrap-Up
Grain Market Commentary
Friday, January 15, 2021
by Harrison Reiff, Associate Merchant, The Andersons
Monday's trade started off with a volatile day with corn having a quieter session ahead of the USDA stocks report on Tuesday. March Corn on Monday opened at 4.965 and closed down 4.25 cents to 4.9225. Soybeans opened the week at 13.7925 and closed Monday at 13.725, down 6.75 cents. Soybeans reached a new contract high on Monday before selling off ahead of the Tuesday report.
Tuesday's trade had corn open ¾ of a cent lower. Bean opened unchanged. The USDA report hit, and markets skyrocketed with corn closing the day up the 25-cent limit and beans closed up 45.75 cents, and wheat closed up 28.75 cents. The USDA report caught the majority of traders by surprise. The corn production number came in at 14.182 billion bushels which was 325 million bushels lower than the USDA's November estimate. This was led by a yield reduction from 175.8 bu/acre to 172.0 bu/acre. The ending stocks corn number came in at 1.55 billion bushels. Quarterly stocks came in well below the analysts estimates at 11.32 billion bushels vs the lowest estimate of 11.590 billion bushels. This was all very bullish news for corn. Soybeans came in with production of 4.135 billion bushels which was a little closer to the average trade guess. Soybean ending stocks came in at 140 million bushels for the 2020/2021 crop year which wasn't much of a surprise, and quarterly stocks came in at 1.695 which again was projected by traders. Corn helped bring soybeans up on the day.
Trade on Wednesday had a volatile day as traders continued to digest the USDA report. March Corn gapped up higher 7.25 cents to open the trade at 5.240. Corn had a 17-cent trading range throughout the trade period trading up to 5.415, finally trading back to close half a cent higher than the open at 5.245. Soybeans gapped up higher overnight by 5.75 cents and traded lower throughout the day to close at 14.0625, completely filling the gap.
Thursday's trade showed corn opening at 5.23 and traded lower to 5.19 to fill some of the gap before trading higher and closing the day up 11.25 cents at 5.3425. Soybeans continued their climb higher with trade opening at 14.065 and finishing the day higher by 24 cents. There is still a gap in corn from 5.1725 to 5.19 that has not filled yet.
Friday's trade reflected march corn trading lower 2.5 cents during the day to close the week at 5.315. Soybeans finished the week down 13.75 cents on a slightly better South American forecast.
---
March Corn futures opened the week at $4.965, and closed the week at 5.315, a gain of 35 cents.
---
March Soybeans opened the week at 13.7925 and closed the week at 14.1675, gaining 37.5 cents.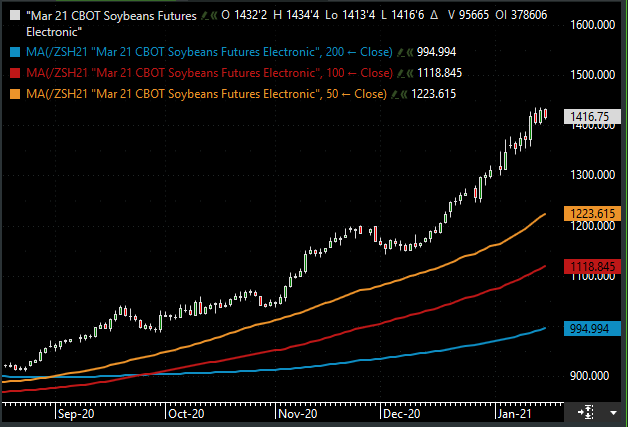 ---
March Wheat opened the week at 6.39 and closed the week at 6.755, gaining 36.5 cents on the week.