Weekly Market Wrap-Up
Grain Market Commentary
Friday, January 22, 2021
by Harrison Reiff, Associate Merchant, The Andersons
The week started off on Tuesday with corn opening at 5.315 and trading lower on the day 5.5 cents. Beans opened the week at 14.19 and lead the drop lower finishing the day at 13.8575. The fade in the markets was fueled by reports of rainier weather in Brazil and Argentina and improved forecasts for the coming weeks.
March corn traded lower 3 cents on Wednesday despite having a 13-cent trading range. March Soybeans fell 15 cents throughout the day. The funds sold off an estimated 8,000 contracts of corn which helped corn fall. The funds also sold off 10,000 contracts of soybeans throughout the day. Brazil was credited with being an active seller of soybeans to China on Wednesday as well.
Thursday's trade showed corn gaining back 3.25 cents that it had lost during the week to close at 5.2425. Soybeans closed 1.25 cents higher to finish the day at 13.7025. After starting the day off higher, corn shrugged off an export sale of 336.5 thousand metric tons of corn to Unknown destinations. Later in the day China reported that it had another outbreak of African Swine Flu. Weather forecasts continued to improve in South America.
Friday's trade started the day lower and continued to fall throughout the day. March corn was almost down limit and finished the day down 23.75 cents. Soybeans like corn almost closed limit down as well, finishing the day down 58.5 cents. The price action was fueled by the rumors of African Swine Flu spreading in China again, and the funds continued to batch sell some of their long positions. We have now given up everything on the markets that we gained from the January stocks report. The 50 day moving averages for corn is still 45 cents away and for beans it is 67 cents away.
---
March Corn futures opened the week at $5.315, and closed the week at 5.005, a loss of 31 cents.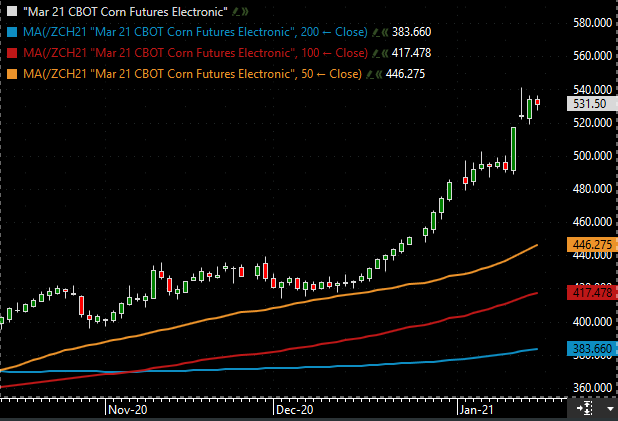 ---
March Soybeans opened the week at 14.19 and closed the week at 13.1175, losing $1.0725 cents.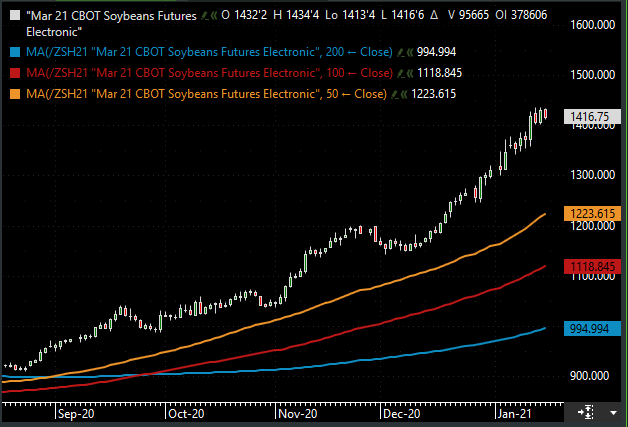 ---
March Wheat opened the week at 6.8375 and closed the week at 6.345, losing 49.25 cents on the week.