Weekly Market Wrap-Up
Grain Market Commentary
Friday, May 13, 2022
by Harrison Reiff, Originations Merchant, The Andersons
Trade started the week off with July 22 corn opening at 7.8125 and immediately following through on the sell-off from last week with corn dropping down to 7.7200, closing down 9.25 cents. July 22 Soybean futures started the week with a sharp sell off, opening at 16.2375 and closing 38.50 cents lower at 15.8525. Planting progress showed corn across the country being 22% planted, which was 8% progress week over week, and is 28% behind the 5-year average. Soybeans came in at 12% planted vs the 5-year average at 24%. The weather from this week will help show one of the largest % increases in planting history that we have had week over week.
July 22 corn futures on Tuesday traded slightly higher off of the low planting progress numbers, closing at 7.7525. The soybean trade showed SN22 starting to bounce, with futures gapping higher 3.75 cents and then closing the day at 15.9225. Forecasts continued to show higher than normal precipitation in North Dakota which will reduce the balance sheet as North Dakota is quick to change acreage.
Wednesday reflected the July 22 corn futures strengthening 23 cents from Tuesday's close, with corn futures closing the day at 7.8850. Soybeans on Wednesday continued their climb, with futures closing at 16.0675, up 14.5 cents on the day. The CPI report produced by the government reflected year over year inflation coming in higher that expectations with inflation sitting at 8.3%. The funds were credited with buying another 10k contracts of corn.
Thursday showed the rally from Wednesday continuing higher with corn futures closing at 7.9150. The soybean trade on Thursday rallied for the third day in a row, closing at 16.1375 after the WASDE report came out. The WASDE report showed the expected 22/23 carryout to be 1.36 billion bushels of corn, and 500 million bushels of bean carryout, up 100 mbu year over year.
To close the week, corn futures sold off from Thursday, and finished the week exactly where they started, unchanged on the week at 7.8125. Friday showed a shar rally on beans, which marked the fourth day in a row we traded higher, which was the first time we had 4 green days in a row since April 18. We still closed the soybean trade on the week below the 50-day moving average which sits at 16.49125. Soybean futures closed the week at 16.4650.
---
July 22 Corn futures opened the week at 7.8125, and closed the week at 7.8125, staying ever on the week despite having a 31.75 cent trading range.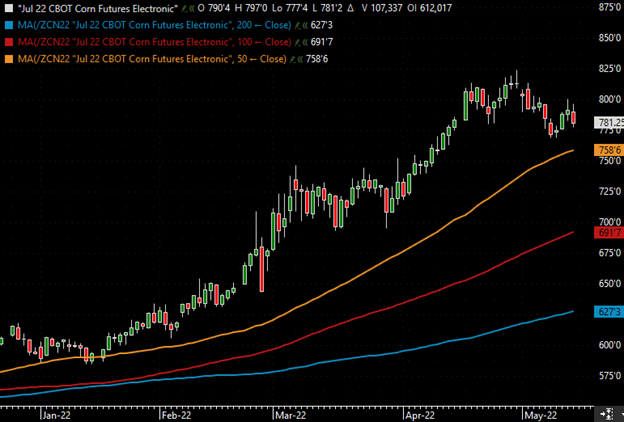 ---
July 22 Soybeans opened the week at 16.2375 and finished the week at 16.4650 gaining 22.75 cents on the week.
---
July 22 Wheat opened the week at 11.2075 and closed the week at 11.7750 trading higher by 56.75 cents on the week.