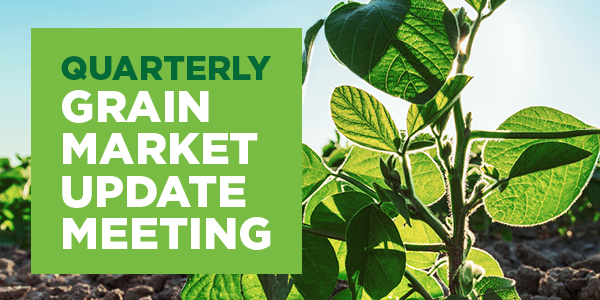 The Andersons facility in Greenville, Ohio will be hosting a Quarterly Grain Market Update Meeting on Thursday, August 30th from 11:00am-1:00pm. Lunch will be provided by Company 7 BBQ from Englewood, OH.
TOPICS COVERED:
Grain bin and storage management
Use your storage to pay
Preparing for fall grain movement
Meeting Location:
Company 7 BBQ – 001 S. Main St., Englewood, OH 45322
Please call 937-316-3800 to RSVP. We look forward to seeing you on August 30th at 11:00am!
---
Notice
The Andersons reserves the right to refuse delivery of commodities containing transgenic genes and traits that are not commercially merchantable.
The Andersons fully supports the NGFA's position that the promotion and sale of varieties that are not approved for export to key markets can cause economic harm to grain handlers and ultimately grain producers and with that, The Andersons Inc. has the right to reject delivery of commodity contain transgenic genes/traits that are not approved for sale in Japan, Mexico, the European Union, China or other US export markets.
About This Facility
Truck Route: Please use Sebring Warner Road (east of US Rt. 127). 10 MPH speed limit on-site.
Trading hours: The weekly start of trading is Sunday night at 8pm. The night trades concludes at 8:45am. The day session is from 9:30am until 2:15pm EST.
Payment Procedures
Daily Pay, Weekly Pay, or Hold Pay is available.
ACH is also available - See ACH form
Daily Pay: payment processed day after delivery
Weekly Pay: payment processed on Wednesday
Hold Pay: payment is held until requested. Delivery Notification Sheets will still be mailed.
At your request, we can print checks in Greenville for pick up after 3pm.
DDG Customers
Credit app required before purchase.
Commercial: Download our Credit Application
Livestock Feeder: Download our Credit Application