New Longer Window! As its name implies, our Freedom® Tech℠ 2 Year program uses technical indicators to set pricing over an extended two-year pricing window. Buy and sell signals are set in place so you know exactly what to expect and when. This program combines technical indicators with professional implementation for a balanced approach.
PROGRAM ATTRIBUTES: Technically Triggered Pricing
---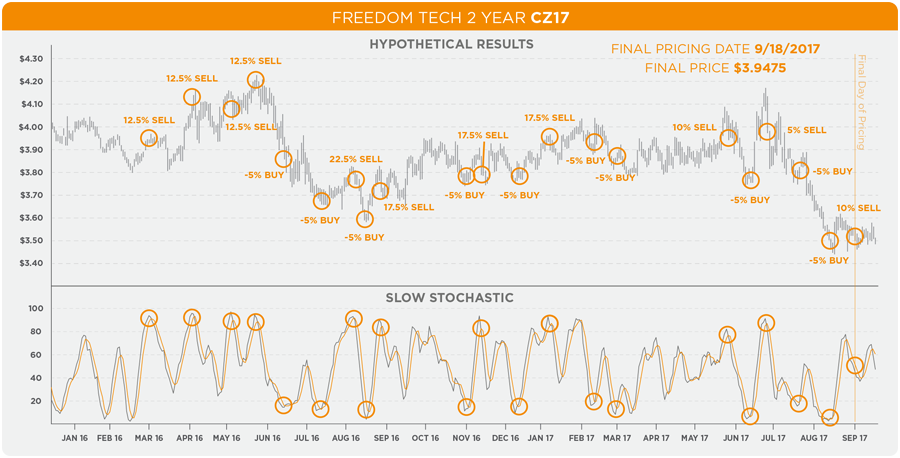 SELL SIGNAL
The stochastic (momentum) indicator reaches overbought territory and starts to turn over, reflecting weakness. When this happens, 12.5% of bushels are sold.
BUY SIGNAL
The stochastic indicator reaches oversold territory and starts to turn up, reflecting potential price strength. If the buy signal is reached and two sell signals were previously triggered, then 5% of bushels are purchased. However, the Freedom® Tech℠ 2 Year program will never trigger more than two buy signals in a row. After a buy signal, the following sell signal will increase the number of bushels sold by the number of bushels bought.
(If the pricing mechanism does not price 100% of the bushels, the remainder of the unpriced bushels will be priced using the market close on the final day of pricing.)
Past performance is not a guarantee of future results.
---
CZ20 | SX20
Enrollment Window Closed

Price Adjustment quoted per bushel.
---